Mushi joins Zenith [Updated]
Since
The International 2
and the break-up of the former roster,
Zenith
has been a team with an uncertain future. Especially with team captain
Daryl '
iceiceice
' Koh having spent much of his time subbing for the South-East Asian powerhouse
Orange
and with
Nicholas '
xFreedom
' Lim standing in for
MUFC
, it seemed as if the players were abandoning ship.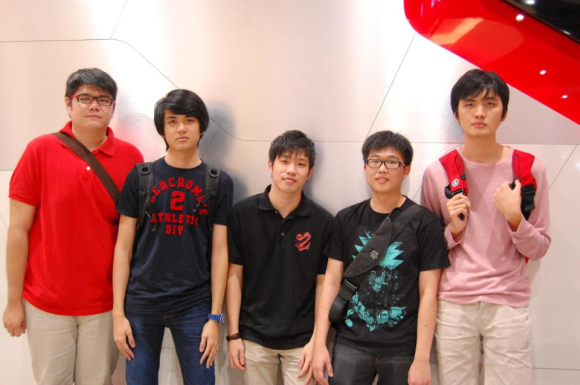 Previous roster of Zenith, left to right: LuX, xFreedom, K-I-N-G, xy-, iceiceice
This all takes a sharp turn in a different direction, as a familiar face appeared on the teams roster page just recently, namely Malaysian legend and former Orange player
Yee Fung '
Mushi
' Chai . Since Oranges third place finish at
G-1 Champions League
, Mushi had been conspicuously missing from Orange during the
G-League Season 2
qualifiers,
GEST: The Challenge
and
The Asia
, prompting much speculation, which now seems to have been answered.
We reached out to iceiceice, and while he did not wish to make a statement, he did confirm for us that Mushi would be joining the team on a mutual trial basis, as well as the departures of the two players who were added on after The International 2, namely
Alan '
K-I-N-G
' Ter and
Patrick '
LuX
' Kwan. This leaves Zenith with a four man roster, with the fifth member to be added during the "next two months".
Update:
Orange has chimed in with further details about the future of their roster and Mushi, with iceiceice also further stating that things are still in a fairly fragile state and may end up changing. The statement from Oranges facebook page reads as follows:
We like to clarify that it is not yet confirm that Mushi will join Zenith. Orange Esports is fine tuning our DotA2 roster to deliver better results in 2013 for our fans and sponsors. Official announcement will be made over the next 2 weeks. Cheers!
Team Zenith
Daryl '
iceiceice
' Koh (captain)
Toh Wai '
xy-
' Hong
Nicholas '
xFreedom
' Lim
Yee Fung '
Mushi
' Chai
Sources:
Team Zenith Wordpress
,
Orange Esports Facebook
Related Content: