G-League Team Presentation: For.Love
Today we better know a Chinese team which you may have heard of, but probably do not know as well as the rest of the pack. They are
For.Love
, the previous G-League season 3rd place finisher. Tomorrow we will discuss an even greater dark horse, the collection of pub players who make up
Vici-Gaming
.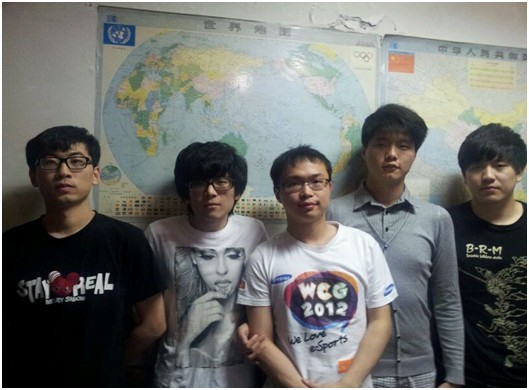 For.Love before AABF joined, left to right: Banana, you, Hanci, 8GK, Guai
Team History:
DT.Love first came to the publics attention during the 2011 second season of G-League, when they qualified for the actual event as a amateur team, and proceeded to take a surprise 3rd placing. In the wake of this respectable achievement, their manager Liu 'Kaka' Pei purportedly sold a house of his in order to sponsor the team until they were able to secure real sponsorship. As the team also turned more professional they changed their name to For.Love, in order to avoid naming mix-ups between the two professional DT prefixed teams around at the time.
Since turning pro, the team did manage to reprise their 3rd place finish in the first G-League season of 2012, and have follow suite with other big Chinese teams with an announcement of switching to Dota 2 which was made during September through
It's Gosu
. However, they failed to progress through the G-1 Champions League qualifiers for their inaugural Dota 2 season, falling to Singaporean Flash eSports in a 2-0 sweep, and were also cut short during the WCG Chinese qualifiers. They qualified for G-League through one of the easier brackets, however taking out the Singaporean team Invasion.Int in the deciding game of the bracket.
Roster:
(Clicking on the individual hero icons will take you to that hero's profile in our database. A conscious choice was made that as there is a lack of clearly identified good quality pictures of the team, they will be presented without pictures.)
Banana
(a.k.a. Hy) (Captain)
Jiao, Wang
A founding member of Nirvana.cn, Banana started playing carry but as time went rounded out his repertoire, playing a wide range of heroes. He eventually settled on playing utility for his team, picking up whatever hero the team needed to round out their drafts. Along with Nirvana.cn, Banana attended the first International in Cologne, Germany, where they went out in the first round of the losers bracket to Mineski. After some time away from competitive Dota, he joined For.Love in the lead-up to the WCG 2012 Chinese qualifiers.
Having taken on the role of support for his new team we have so far seen him playing the likes of Jakiro, Rubick, Keeper of the Light and Lion. His past notable support heroes include Earthshaker.
Signature heroes:
Hanci
Hanci, Huang
Hanci's claim to fame is a game of Wc3 DotA where he played Weaver and tried to buy a Relic while all his slots were full, earning him the nickname 'Mr.Weaver'. He is now one of the support players for For.Love and plays the occasional jungler. His repertoire has included Enigma, Crystal Maiden, Jakiro and Leshrac.
During ACE previous season, Hanci's signature heroes were listed as Lina and Crystal Maiden.
Signature heroes:
you
Houyi, Yang
The teams off-laner, he seems to prefer Bounty Hunter in Dota 2. He has also been seen playing Magnataur as well as Keeper of the Light.
During ACE previous season, you's signature heroes were listed as Rubick and Lich.
Signature heroes:
8GK
Haohao, Zhang
8GK plays the solo mid position for his team and has been known to make use of heroes such as Night Stalker, Storm Spirit and Queen of Pain. Of these, Night Stalker seems to be his favourite.
During ACE previous season, 8GK's signature heroes were listed as Batrider and Storm Spirit.
Signature heroes:
AABF
Fan, Bai
AABF is actually the former coach of DK, who prior to that had a short stint on the World Elite 2nd team. He joined the team after Guai left, but has yet to play any official games with the team to the best of our knowledge. While on the team, Guai played a carry role, so AABF may be filling this function for the team.
If AABF is playing carry, he may be expected to play heroes similar to what the team has been playingin the past, which includes typical hard carries like Anti-Mage and Lone Druid as well as less common picks Phantom Lancer and even the "carry" Magnataur, which we've only seen a few team attempt.
Signature heroes:
?
Predictions for G-League:
While For.Love have shown themselves capable of going for in previous season of G-League, which was played on Wc3 DotA, they have yet to show any kind of success in Dota 2. With a highly stacked group ahead of them, comprised of DK, LGD.Cn and LGD.Int, it's hard not to be pessimistic about their prospects of advancing from this group.
If For.Love are to advance, their one glimmer of hope has to be that LGD.Cn has shown lackluster performance during The Asia 2012 so far. If this weakness is a result of problems adapting to the 6.77 patch, For.Love may only need this one upset in order to keep their dream alive, although they are likely to face a strong MUFC in the quarter-finals if they get that far.
Any opinions expressed in this article are solely those of the editor's, and do not reflect joinDOTA as a whole.
Previous Team Presentations
TongFu
LGD.Cn
MUFC
DK
Invictus Gaming
Sources:
For.Love Tencent microblog
Related Content: