G-League Team Presentation: TongFu
Today we will take a look at the fifth Chinese team from
The International 2
,
TongFu
, while tomorrow we will dive into the realm of slightly more obscure Chinese teams starting with
For.Love
.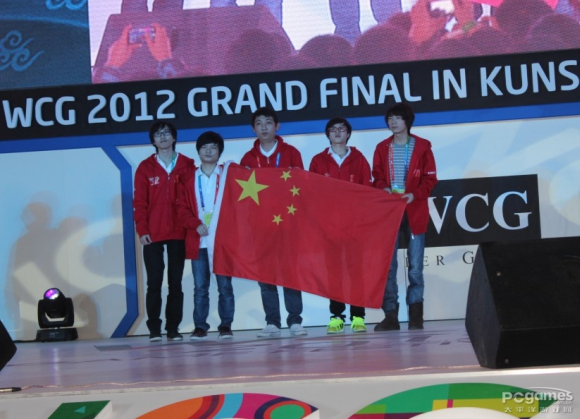 TongFu at World Cyber Games 2012
Dota 2 Achievements:
- 1st - The International 2012 East Qualifier (2012)
- 2nd - It's Gosu Razer Mini Madness (2012)
- 7th/8th - The International 2 @ Seattle, United States of America (2012) $25,000
Team History:
TongFu as an organization is one of the more recent on the Chinese scene. A food products manufacturer, they acquired a team in the wake of the disbandment of TyLoo with intent to use it as part of the company marketing strategy. Kabu was recruited by TongFu to create a team that would be capable of challenging the top teams in China. The initial lineups mostly consisted of new talents, and the team was unable to compete with the top tier teams. In an effort to reform, the team took in LaNm, but the results were mediocre and team chemistry was lacking.
Following PanDarea's disbandment, the organization decided to take in three of their players: Hao, Mu, and SanSheng. The team had potential but ended up running into a series of controversies between LaNm and the organization, which saw LaNm leaving for EHOME. With The International fast approaching, the team decided to recruit Awoke, who has been playing for CLC before most of their players joined EHOME.
While showing some good form securing the eastern qualifier slot over World Elite, overall TongFu was inconsistent, which continued on to their performance at The International 2, where they managed top8 and were the weakest of the Chinese teams. Internal issues arose as well, and it was clear something had to change. While some were expecting a split between the two stars of the team, Mu and Hao, the ones who eventually ended up leaving were in fact Kabu and Awoke, to be replaced by former DK player LongDD as well as former World Elite player Chan, who promptly renamed himself Veronica.
Even after these roster changes, TongFu continues to be inconsistent, which resulted in a 2-0 first round loss in the G-1 Champions League lower bracket against Evil Geniuses. Their one ray of hope has been their last minute participation at the World Cyber Games 2012 in Wc3 DotA, where they were able to take home gold over LGD.Cn in the finals. How much time either team had spent on playing Wc3 DotA in preparation for the event is questionable however, as well as the real impact of that win.
Roster:
(Clicking on the individual hero icons will take you to that hero's profile in our database, as well as clicking on player portraits will take you to their profile pages!)

Hao
(Captain)
Zhi Hao, Chen
Nicknamed General Hao by the Chinese community, Hao is known to be one of the most aggressive players in the Chinese scene. Hao has a past with Nirvana.cn and TyLoo, and has become well known for taking extraordinary risks for a carry player as he dives to get kills. When things work out, he can swing games singlehandedly, and when they don't work out, he can cost his team the game at worst.
While known for playing heroes such as Morphling (a hero he doesn't actually enjoy playing) and Chaos Knight, he is also well remembered for his Dragon Knight play. A recent favourite of his has been carry Queen of Pain.
Signature heroes:

Mu
Pan, Zhang
Mu was voted rookie of the year for 2011 in China. His style of play is active, looking for openings to not only take part in ganks but to create opportunities, even if doing so involved diving towers to get to the opposing heroes. As with Hao, Mu's high risk - high reward style of play can make or break games.
Mu is known for playing heroes such as Chaos Knight, Invoker, Night Stalker, even Queen of Pain. His recent preferences have been in the direction of the generally popular Night Stalker.
Signature heroes:

SanSheng
Zhao Hui, Wang
One of the longest serving member in the competitive scene, Sansheng's path has been anything but smooth. Nicknamed 34, he has played in many different top teams but achieved little. Despite his solid plays anywhere from the third, fourth or fifth role, Sansheng has been unable to find the correct team for him, having stints in teams such as EHOME and iG. Shortly after joining PanDarea, financial issues forced the disbandment of the team. While he joined TongFu as an offlaner, since Veronica was added to the team he has mostly played the 4 and 5 positions.
SanSheng used to be well known for playing Bounty Hunter and Windrunner, but has in recent times played more Venomancer and Shadow Shaman.
Signature heroes:

LongDD
Xiang, Huang
One of the most experienced professional players in China, LongDD has gone through various highs and lows. He has been in teams such as DK, EHOME, CaNt, CH, Deity and many more, but never truly settled down well at any of them. For a time, it seemed he had found the team for him with DK, but it was not to last. Much like 820, LongDD transitioned from carry into playing support.
As a support, he has been well known for playing Nature's Prophet, Chen, and Vengeful Spirit. For TongFu, he has continued to play either heroes which benefit from some farm or junglers. He is rather eclectic, and no clear pattern exists for his recent heropool.
Signature heroes:

Veronica
(a.k.a. Chan)
Zhixi, Chen
Veronica was part of the young roster of World Elite which ran into turbulence following their failed bid to take the vacant spot of MUFC for The International 2. This meant he was available for TongFu to pick up after Awoke's contract ran out and he left the team.
For TongFu, Veronica has mostly occupied the offlane, playing a fairly large number of heroes since he joined. His traditional strong heroes in Dota 2 have been Brewmaster, Chaos Knight and Tidehunter.
Signature heroes:
Predictions for G-League:
TongFu will be hard pressed to make much happen, even as they have the easier group. Their performance has been going from good to bad and back recently, and with a strong MUFC in their group as well as dark horses Vici Gaming, it's going to be an uphill battle to even progress into the quarter-finals.
My personal feeling is that we might see a slight surprise, with TongFu taking the bottom position for Group B. Even if they were to make it into the top3, they would need to play at the very edge of their abilities in order to progress further.
Any opinions expressed in this article are solely those of the editor's, and do not reflect joinDOTA as a whole.

TongFu group picture credit PcGames.com.cn.
Previous Team Presentations
LGD.Cn
MUFC
DK
Invictus Gaming
Related Content: