G-League Team Presentation: LGD.Int
Last - but not least - for our series of team profiles on
G-League Season 2
competitors is an overview of what could be said to be the team of dream chasers. Tasked with proving that Western Dota can stand on equal footing with the Chinese given the right conditions,
LGD International
are a team that carries the weight of great hope and expectation.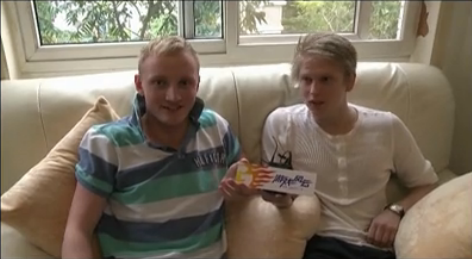 MiSeRy and Pajkatt being interviewed in China
Major Achievements:
1st - GEST Dota 2: The Challenge (2012)
Team History:
Immediately following the conclusion of The International 2012, the competitive Dota 2 entered an expected and major "shuffle", in which most of the elite teams reformed their rosters, either with a few player changes or disbanding entirely. Some players stepped back from the game, temporarily or permanently, whereas others quickly forged new alliances with each other before finding new homes. Of all the new teams to be born post-Seattle, none was as big a surprise as the formation of LGD International.
This team would not merely be a foreign extension of the Chinese brand - LGD would go all out to support their new international squad as they set out to chase the dream of rising to the pinnacle of Dota. The best western professional players had for a long time claimed that they were as individually skilled as their Chinese rivals, but that the better playing conditions of the Chinese teams - specifically, training together all year round in team houses - allowed them to attain superior levels of understanding and coordination, which was the key behind their higher level of play. Now LGD would give their new squad the opportunity to replicate that, and
former Counter Logic Gaming captain Pajkatt was tasked with assembling a roster worthy of the cause.
Rumours began to circulate about Pajkatt's communications with a Chinese sponsor directly after The International 2012, but the dream team was finally publicly announced on October 16th, and it was truly an international team in the most literal sense of the word. Joining the Swedish Pajkatt for the ten month adventure in China, in the LGD team house with their established native counterparts, would be a star-studded collection of players: his current (at the time) CLG teammate from Denmark, MiSeRy; his former Canadian teammate in OK.Nirvana.int and the former captain of mousesports, 1437; the flashy Russian veteran of Darer and Moscow Five, G; and finally - and most surprisingly - one of the year's newly emerged American talents and the only member of the team not to have competed at The International 2012 or 2011, Brax of Quantic Gaming.
Not much has yet been seen of this team, but what little has been witnessed has been hugely promising: as well as qualifying for Season 2 of the G-League, the team's run through the Winner's bracket in the GEST Dota 2: The Challenge saw them stand toe-to-toe with some of Asia's finest, including their own housemates in LGD.cn, and emerge on top in the end, with some sublime play leading them to their victory. Furthermore, sources say that LGD.int have been posting impressive practice results against other Chinese powerhouses too, and all-in-all they apparently have a winning rate of around 40-50%. Whether or not these encouraging practice records can translate to long-term competitive success remains to be seen.
Roster:
(Clicking on the individual hero icons will take you to that hero's profile in our database, as well as clicking on player portraits will take you to their profile pages!)

Pajkatt
Per Anders Olsson Lille
Undoubtedly one of the best and most high profile Swedish players, Pajkatt has been an ever-present force at top tier of Western Dota in the past two years, which has encompassed his time in Team GosuGamers during the first half of 2011, OK.Nirvana.int at The International 2011, a short stint in Evil Geniuses after that, which was followed by his stay in Counter Logic Gaming. All throughout that time, Pajkatt has made a name for himself mostly through a mixture of his renowned ability with Invoker and for his insane proficiency in farming with an assortment of typical hard carry heroes. Leadership is another skill he has added to his repertoire in 2012 with a successful time as the captain of Counter Logic Gaming, and while no one on the outside knows yet who is calling the shots for LGD International, from what has been seen of them so far, it seems that Pajkatt has taken up the hard carry role once more in his new team, especially favouring the LGD house favourite, Luna.
Signature heroes:

1437
Theeban Siva
A veteran of The International in both 2011 (for OK.Nirvana.int) and 2012 (as captain of mousesports), with two stints in different formations of It's GoSu in between, 1437 is an established primary support player, and this is a role he's continued in - so far - in his new team. Most often seen playing selflessly on the likes of Shadow Demon and Venomancer, the Canadian is also known for mixing it up and taking the hard lane role as one of the games premier Dark Seer users. In a team full of players who made their name as solo middle or carry players, it seems likely that 1437 will continue to perform the role he has specialised in for the majority of his professional career for the foreseeable future in LGD International as well.
Signature heroes:

MiSeRy
Rasmus Filipsen
MiSeRy is a highly talented player with a long career in and around the top of competitive DotA and Dota 2. After playing at The International 2011 in the final showing of the original and formidable Meet Your Makers team, the versatile Dane spent a short time with Evil Geniuses going into 2012 with Pajkatt, before following him to Counter Logic Gaming and now LGD International. MiSeRy brings a lot of flexibility to the team, having garnered vast competitive experience in more or less every role the game calls for during his career. In order to accommodate his teammates in their preferred positions, and with 1437 already the primary support, MiSeRy is most likely to play the secondary support, ganker and/or utility roles for his team.
Signature heroes:

G
(a.k.a. God, GodKillThemAll)
Sergey Bragin
Perhaps the worst kept secret of the Russian Dota scene for quite some time, God truly made a name for himself in 2011 with flashy and ingenious performances in the solo middle role for Moscow Five. G, as he is now known, possess talent in abundance and a propensity to snowball out of his opponents' control, provided he gets the start he needs. His time with Darer in 2012 did not see him consistently hit the same heights, as he often played different heroes and positions to the one that made him famous, but so far for LGD International, G has been seen back in his preferred role. With exceptional proficiency on powerful semi-carry and ganking heroes such as Invoker, Queen of Pain and Templar Assassin, don't be surprised to see G match up to the very best of opponents who may face him on the middle lane.
Signature heroes:

Brax
Braxton Paulson
One of the breakout stars of 2012, few could have ever predicted at the start of the year that Brax would be one of the chosen five to form LGD International. Despite being a known name in the North American scene for a long time and tipped by some for great things, Brax only got his big break in the June/July when he joined Quantic Gaming, first as stand-in and then officially, following their reformation after DreamHack Summer. He made his presence known immediately, taking over Quantic's solo middle role for the most part, and was especially praised for his play with Invoker, putting his team on his back when Korok would have an off game. So far in LGD, Brax has mostly been seen as the team's off/hard lane specialist, and his solid performances there have suggested that he is every bit as skilled as his more experienced teammates.
Signature heroes:
Predictions for G-League:
While little of them has been seen as a single unit, the players individually have numerous achievements and a plethora of experience from their time playing competitively in Europe and North America, and the glimpses we have seen of them as a team in China - against some of Asia's very best - bodes well for the future. Few would doubt that they have the talent to succeed in the G-League.
However, talent is not the only factor to consider for their chances: this is still a very raw team that collectively possesses far less LAN experience than their G-League rivals, and has the weight of expectation on their shoulders from those wishing to see a Western mix truly rival the Chinese on a regular basis. The pressure of playing with such conditions over the span of two weeks may yet prove to be too much for them, but having said that, some players thrive under pressure, and LGD International may yet flourish in Shanghai. They may not be the favourites to take it, but by no means should they be ruled out of the running either.
Any opinions expressed in this article are solely those of the editor's, and do not reflect joinDOTA as a whole.
Previous Team Presentations:
Vici Gaming
For.Love
TongFu
LGD.Cn
MUFC
DK
Invictus Gaming
Sources:
LGD Facebook
Related Content: