G-League Team Presentation: LGD.Cn
Coming off a big win at the last major Chinese LAN finals,
LGD.Cn
finally got that first big win they had been waiting for. Today we ponder if that hunger is still in them and how fast they can adapt when needed. For tomorrow, we will take a look at the team that beat LGD.Cn at
World Cyber Games
in Wc3 DotA,
TongFu
.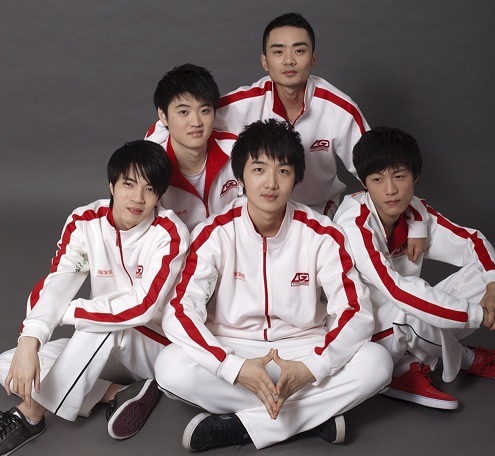 (Left to right) DDC, DD, Yao, Xiao8, Sylar
Dota 2 Achievements:
- 1st - Gigabyte Dota Masters (2012) - $3,000
- 2nd - It's Gosu Monthly Madness Asia (2012) - $500
- 3rd - The International 2012 @ Seattle, United States of America (2012) - $150,000
- 1st - G-1 Champions League Season 4 @ FuZhou, China (2012) $28,500
- 2nd - GEST Dota 2: The Challenge (2012)
Team History:
LGD is one of those names forever cemented in the annals of DotA. 2009, KingJ, ZSMJ, YYF, CH~, 830 and Chuan all played under this banner during the legend-making 2009-2010 period. This all came to a screeching halt when iG recruited the entire LGD roster at the time sans ZSMJ. With the World DotA Championships looming on the horizon, ZSMJ scrambled to fill the void by recruiting four former members of Dream. These four young bucks were xiao8, DDC, DD and Yao (at the time known as xiaoD).
ZSMJ retired soon after, disappointed that he had been unable to recreate the success of the previous roster. In his place another veritable no-name was brought in, World Elite solo-mid-turned-carry player Sylar. With this, the roster we know today was finalized. A hard working team of relative "unknowns" (xiao8 was relatively famous, but as a whole they did not match the starpower of previous LGD rosters), who set themselves a task to find their place in Dota history, they quickly became known for an admirable consistency of play. Indeed of all the modern top Chinese teams, they are the ones who embody the traditions of Chinese Dota the most.
During the lead up to The International 2 LGD earned their place as top 3 of the Chinese scene, but were never quite able to claim that top spot. The dominance of DK faded into that of iG, and LGD were left hungry for their inaugural big tournament win. In Seattle things looked promising, as they swept the groups in absolutely spectacular fashion and took out their two following opponents in the winner's bracket, making it 18 straight won games at the biggest stage to date in Dota. And then, they met the team that would be their undoing. Na`Vi had figured out how to beat the Chinese at their own game and ended up sending LGD down to the losers bracket, where iG were ready to send them home. Having played largely the whole tournament off a single draft, relying on solid play to carry them through, they were unable to adapt quickly enough and it cost them dearly.
As they got back to China, rumours soon starts making the rounds about a sister team for the mighty LGD.Cn, which was finally announced in October of 2012. With an in-house scrimming partner which was able to match them blow for blow, they set to work developing a strategy which when finally unleashed against the dominant iG at the G-1 Champions League LAN finals blew people's minds. Seemingly effortlessly the world champions were sent into the 3rd place decider while LGD.Cn marched on to take out DK, earning them finally the glory which had escaped this new roster for so long. And this is where we stand today, LGD.Cn has realized the legacy which comes with the name, have overcome the mental block which kept them from winning for so long, and are now poised to take on anyone in the Dota 2 world.
Roster:
(Clicking on the individual hero icons will take you to that hero's profile in our database, as well as clicking on player portraits will take you to their profile pages!)

Sylar
Jia Jun, Liu
The former solo mid player for World Elite, Sylar joined LGD after ZSMJ's retirement. Initially he was criticised for being a carry player with low impact in the game. However, with time and experience, Sylar has improved into becoming one of the best carries from China. Sylar's consistency and calm thinking has allowed him to constantly participate well in teamfights. A young player who has dedicated himself to mastering the basics, his farm is deadly consistent. While he has previously been best known for the likes of Morphling, Lone Druid and Anti-Mage, his recent addition of Luna to his repertoire and the early aggression this hero affords with her ultimate has seen Sylar showing growth beyond his former constraints, into a ever more well rounded carry player.
Signature heroes:

xiao8
Ning, Zhang
Known as one of the best Weaver players, xiao8 joined LGD along with members from the original CCM/iG team following Gamescom. He had started his competitive career with Dream, and with the team's disbandment it was clear that xiao8 was one of the breakout stars of the team despite its relatively short period of activity. xiao8 has earned the nickname of 'Director8' for his vision of the game and penchant for dreaming up strategies which LGD.Cn execute as if read from the pages of a script.
An innately aggressive player, he has found most success recently playing strong inititators which allow his traditionally 4-protect-1 team to make things happen during the middle parts of the game, creating the space Sylar needs to take over the late game. Traditionally not an accomplished Batrider player, he bated out the pick from iG during G-1 and proceeded to dominate with it. Other recent trends have involved the popular Night Stalker as well as Beastmaster.
Signature heroes:

Yao
Zheng Zheng, Yao
Previously known as xiaoD, Yao used to play for teams such as Nirvana.cn tkaing on the role of a support or ganker, utilizing heroes such as Earthshaker and Tidehunter. After joining LGD, Yao has been going back and forth over who will play the mid position with xiao8. While Yao is great on heroes such as Invoker, and played this hero at a time almost exclusively, the changing metagame has seen him now mostly take up shop on the offlane, occasionally spearheading aggressive trilanes.
Right now his hero of choice seems to be Windrunner, however he also has played Magnataur when an opponent has given the hero away. With the recent changes to Magnataur, it will be interesting to see if the man who started the craze can find a new way to make it work for him while other teams have failed to cope with the nerfs.
Signature heroes:

DD
Bin, Xie
Another player who came over from Dream, with a pitstop in TyLoo, DD is the hard support of the team and specializes in support heroes that are able to gank well, such as Shadow Demon. Despite the lack of colorful history in the competitive scene, DD is an unselfish team player and forms a reliable ganking duo with DDC that creates opportunities for teammates to benefit from.
A notable hero for DD in recent times has been Vengeful Spirit, which he plays very well and is statistically his most successful hero.
Signature heroes:

DDC
Fat-meng, Leong
The best word to describe DDC is versatility. Capable of playing any role entrusted to him, taking on heroes such as Nature's Prophet, Leshrac, Earhshaker, Chaos Knight, and more. With LGD.Cn he has however found himself mostly confined to the fourth or fifth position. A former CCM/iG player alongside xiao8, DDC has proven himself to be a invaluable utility player.
Overall his most played hero in Dota 2 has been Leshrac, but recent games have found him picking of the newly popular Nyx Assassin every chance he gets, so be on the lookout for that one.
Signature heroes:
Predictions for G-League:
LGD.Cn was that team with all the legacy and a young cast that would always crumble at that final inch. We saw it at The International 2, 18 straigt games against the best teams in the world and then just getting shut down by Na`Vi and kicked out by iG. But with their victory at G-1, they finally got that first big win, and it came on the back off good analysis of their opponents and preparation.
But they also had weeks to prepare. Now they might be prepared for the groups, and they need to be with how Group B is looking, but the game always changes over the course of such a big LAN event, especially with 6.77 dropping only days before the event. This is what LGD.Cn has gotten a lot of flak for, they have been the conservative one of the Chinese teams, slow to react. Is their practice with LGD.Int changing this? Time will tell. But one thing is for sure, if they make it to the grand finals, that break between the semi's and the finals will work in their favor.
Any opinions expressed in this article are solely those of the editor's, and do not reflect joinDOTA as a whole.
Previous Team Presentations
MUFC
DK
Invictus Gaming
Sources:
LGD Facebook
Related Content: