G-League Team Presentation: DK
The second team in our series of G-League team presentations is the other invited team,
DK
. Tomorrow we will continue with a look at the Malaysian contenders,
MUFC
.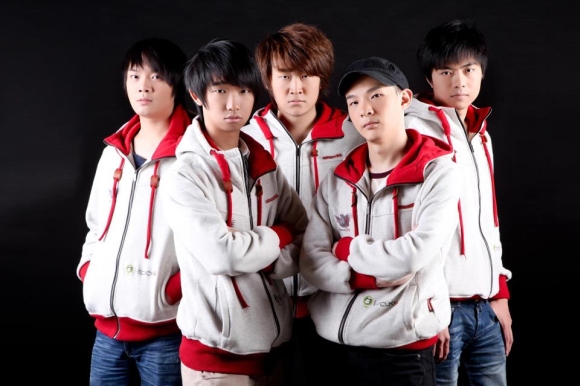 (From left to right) Dai, Super, r0tk, QQQ, BurNing
Dota 2 Achievements:
- 2nd - joinDOTA Masters VII (2012)
- 1st - It's Gosu Razer Mini Madness (2012) - $500
- 4th - The International 2 @ Seattle, United States of America (2012) - $80,000
- 2nd - G-1 Champions League Season 4 @ FuZhou, China (2012) - $9,500
- 2nd - World Cyber Games @ Kunshan, China (2012) - $9,000
Team History:
The DK we know today has its origins in the great Chinese roster shuffle of 2010. Aquiring BurNing from EHOME, they set out to build a dynasty around arguably the greatest Chinese carry player. While the first star-studded roster included the likes of YaphetS and KingJ, results were not up to expectations, which resulted in a series of roster changes. These changes prevented DK from attending The International at Cologne, Germany, with the team announcing their final roster only as the competition was winding down. On the very last day of the competition in Cologne, DK finally announced its reformed roster, seeing r0tk, Super, LongDD and Zippo joining the team.
With this new lineup, DK went on a rampage through the Chinese Wc3 DotA world, becoming known as the best Chinese team of late 2011/early 2012, winning the likes of World DotA Championship as well as multiple G-League and G-1 League titles. As they began splitting their attention between Wc3 DotA and Dota 2, their results eventually began to slip, with iG overtaking them for the second half of 2012 as the best of Wc3 DotA.
DK were the first team to announce their invitations to The International 2 and were expected to go far at the tournament. However, after coming second in their group and being knocked out of the competition by iG, a 4th place and 3rd of the Chinese teams, while a good showing, did not seem to live up to the expectations of the team itself. As a result, rumours of impending roster changes began before The International 2 had even officially ended.
In early October, DK released their two supports, acquiring instead the legendary EHOME duo Dai and QQQ, who had also been part of a team performing under expectations at The International 2. This team has since posted consistent high level performances, taking 2nd place in G-1 League as well as at WCG.
Roster:
(Clicking on the individual hero icons will take you to that hero's profile in our database, as well as clicking on player portraits will take you to their profile pages!)

BurNing
(Captain)
Zhi Lei, Xu
Recently immortalized as a secondary name for Anti-Mage in Wc3 DotA, BurNing is the modern standard that all carries are measured against. Earning his reputation with EHOME back in 2010 and cementing it during 2011 in DK, his ability to carry teams is cemented in his previous experiences as a support player. Much attention is given to his ability to farm, but what makes him exceptional is his map awareness while farming. He knows when to be aggressive, and when to back off, making it near impossible to prevent him from becoming a major factor in every game. His decision making is second to none, and he is the bedrock on which DK relies for their late game.
If anything, the label of a one-man show which DK has is a part of their problem, in that they dedicate so much effort to one player that there may be weaknesses elsewhere. Most of the time, it pays off, but BurNings greatest weakness in the late game is that the opponent may be stronger as a team.
Signature heroes:

Super
(a.k.a. Yueru)
Jun Hao, Xie
Perhaps the most overlooked of the big Chinese solo mids, in many respects Super sets the tone for DK's mid game. While overshadowed by the greatness of BurNing, on most other teams Super would be a star in his own right. While he has risen to fame in DK, he was already a known player before joining, having played in teams such as Sunny and TyLoo. He embodies the essense of DK, being neither overly aggressive nor passive, but being capable of moving between the two with ease. Similar to Ferrari_430, he plays a mean Invoker, but has been more willing to pick up the hero even after the recent nerfs. He has also been rounding out his recent repertoir with heroes such as Templar Assassin and Queen of Pain.
Signature heroes:

rOtk
Fan, Bai
While r0tk may be the most inconsistent player on the team, he makes up for it by being a consistently loud presence on LAN. He is emotional and he's more than happy to show it. When he's hot, he's hot, when he's not, things go badly for DK. He's even been known to burst into flames on occasion, for good and for bad. While he was well known for playing Clockwerk Goblin in Wc3 DotA, he has been more inclined to play heroes such as Windrunner, Dark Seer and above all, when it's not banned, Batrider. He is also usually the spearhead for DK's aggressive trilanes.
The 6.77 changes to Batrider may let him slip into the hero pool more often, but against r0tk, it will always be worth the ban.
Signature heroes:

QQQ
(a.k.a. 357)
Yi, Yao
A legend himself, QQQ has always been the strong pillar of support that every team yearns for. Consistent and high skilled, his age of 27 has not shown in the quality of his performance. He is still capable of the same level of play as with the invincible EHOME of 2010, and was a valuable pick-up for DK. During the early years of his career, QQQ was always the reliable player with the fourth role, playing heroes such as Earthshaker and Lion to near perfection. Since joining DK, he has been rotating between the 4 and 5 role depending on the draft. Enigma, Chen and Venomancer have been oft seen heroes for QQQ with his new team.
Signature heroes:

Dai
(a.k.a. X!!!, MMY!!!)
Zeng Rong, Lei
Dai was possibly the best mid player in China at one point. His Storm Spirit, Tinker and Lion struck fear in the hearts of men. EHOME's Weapon X. Many still remember those days fondly, and wish for his return to the mid position.
But since the re-formation of EHOME in the lead-up to The International 2, Weapon X has been reappropriated. No longer carrying games with exceptional plays, he now makes the most of every iota of farm he gets, sharing the 4th/5th position with QQQ. As has been seen with other prominent semi-carry players, when they take on a support role they tend to continue to bring their aggressiveness and map awareness to the team, providing an additional player who is capable of making things happen. While still finding his way with a new team and a new role, Dai has already shown that his Leshrac and Wisp can be very deadly indeed.
Signature heroes:
Predictions for G-League:
The easy way out would be to say that DK will continue their recent run of 2nd place finishes, cementing their position as the middle team of the Chinese powerhouses. They tend to play fairly stable Dota, middle of the road in every respect except one. BurNing, the undeniable farming machine that he is, stands out time and again. Yes, one could say that they are likely to end second, and that their hopes of taking home the championship rest on BurNing to carry his team to victory.
But this is a group of death, and someone has to fall. A stable performance might well land them on top of the group and send them straight into the semi-finals, but this is where I personally expect a small upset, if you can even call it that. Whomever they face, the opposition is going to be tough. We've seen what LGD.Cn can do when they have a bit of time to prepare for a match. LGD.Int may be at their first LAN together, but they will grow fast and by the semi's they'll be in shape to take on anyone. While r0tk can play at a very high level, all it takes is a moment of weakness, and I think this will be the Achilles' heel of the team, which will condemn them to a 3rd place decider in this competition.
Any opinions expressed in this article are solely those of the editor's, and do not reflect joinDOTA as a whole.

Team picture is copyright of

DK

.

Credit and thanks to the guys over at DotA Academy for their amazing statistics!
Previous Team Presentations
Invictus Gaming
Sources:
DK Dota 2 Facebook
Related Content: