G-League Team Presentation: iG
With G-League Season 2 around the corner, we figured we'd try something a little bit different. Over the course of the next few days, we will be bringing you a daily team presentation to get you up to speed about who will be competing at the event, how they got there and what their chances are. Today we will be kicking things off with a double presentation of the two invited teams. This is the presentation for
Invictus Gaming
with
DK
following later today.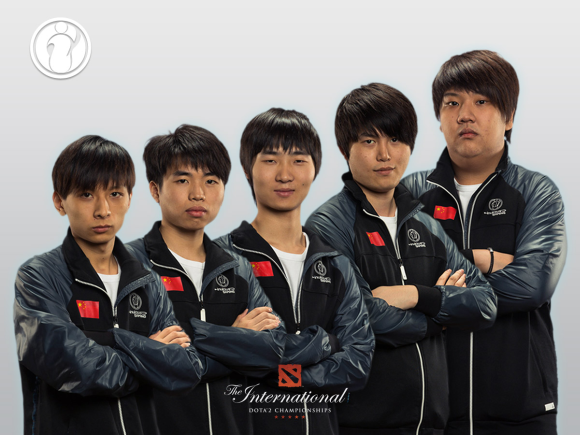 (From left to right) Ferrari_430, Faith, Zhou, YYF, Chuan
Dota 2 Achievements:
- 5th/6th - The International @ Gamescom, Cologne (2011) - $35,000
- 2nd - Beyond The Summit World Tour (2012)
- 1st - The International 2 @ Seattle, United States of America (2012) - $1,000,000
- 4th - G-1 Champions League Season 4 @ FuZhou, China (2012) - $6,400
- 1st - World Cyber Games @ Kunshan, China (2012) $20,000
Team History
Having been established in early August of 2011, Invictus Gaming, or iG for short, is a relatively young organization. The players behind it, however, are some of the most established names in the Chinese DotA scene, having played in some of the best and top teams in China.
When Invictus Gaming was originally established, there were two teams playing under the iG tag, known as iG.Y and iG.Z. The former consisted of four members from the infamous
LGD
, while the latter was the acquistion of the entire
CCM
team that dominated the scene from early to mid 2011. Both acquistions were said to be in tune of
six million dollars
, paid for by the son of China's tenth richest man, Wang Sicong.
Both teams continued their quest to be the best as seperate entities up until the World DotA Championships held in November of 2011. With unfavourable results from both squads, the owner decided it was best to merge the two teams which lead to the current iG roster. The new roster showed its worth by winning the SMM Grand National DotA Tournament in December of 2011 and would over time claim the premier spot in Chinese Wc3 DotA leading up to The International 2.
At The International 2 iG dominated their group and went confident into the playoffs, where they were rudely dropped down to the lower bracket by Na`Vi. Undaunted, iG fought their way through the rest of Chinas elite to earn the right to face Na`Vi once more in the grand finals, where they were able to claim the title of best Dota 2 team in the world.
Roster
(Clicking on the individual hero icons will take you to that hero's profile in our database, as well as clicking on player portraits will take you to their profile pages!)

Zhou
Yao, Chen
Given the nickname 'Zhou Shen' (Zhou God in English) by the Chinese community as a testatement to how skilled of a player he is, Zhou is known throughout the world for his insane carry abilities, with last hits being some of the most accurate around. Best known for playing under the Nirvana.CN tag, Zhou has been through thick and thin, winning multiple titles throughout his career and going through just as many roster changes as well. He is the current in-game leader of the team.
Signature heroes:

Ferrari_430
Fei Chi, Luo
Considered perhaps the greatest solo mid player of today, Ferrari will always be best known for his Invoker play. While the current version has not favoured this hero, Ferrari has instead found himself dominating recently with aggressive gankers, primarily Night Stalker. However, at the G-1 finals it seemed as if his movement with the hero had been figured out, which has forced the iconic player to re-think his game. If WCG grand finals are any indication, his answer may be Brewmaster, but only time will tell if that holds up.
One outstanding attribute of Ferrari is his excellent map awareness, which was demonstrated during a game against
DK while he was playing Templar Assasin,
getting a solo kill on a Broodmother with no detection at all
.
Signature heroes:

YYF
Cen, Jiang
Another bright star in the Chinese Dota scene, YYF is well known for playing alongside 2009 in the a previous incarnation of LGD. Even after 2009 decided to leave the team, YYF continued to lead the team to achieve excellent results. He is one of two members of this legendary LGD team who remain on iG, and with exceptional play on the offlane has cemented his place as one of the very best, if not the best, at this highly precarious role.
Signature heroes:

Chuan
Hock Chuan, Wong
The only player on the team not of Chinese origin, Chuan hails from Malaysia, which has produced equally talented players such as Yamateh and Mushi. Chuan is the very first 'foreign' player to join a Chinese professional team; he first headed to China and played under the now defunct ToT team. Even before his move to China, Chuan had been known to be a very skilled player, playing under famous teams such as KingSurf and Mineski.my while still residing in Malaysia.
His flashy plays and larger than life persona has made him perhaps the most famous of the iG squad, spawning many a meme of his Tidehunter plays at The International 2. Formerly a semi-carry player, his Windrunner will always have a special place in our hearts.
Signature heroes:

Faith
Hong Da, Zeng
Faith became known for captaining Tyloo under the nick 'WAQT'. Having played the carry role for most of his career, Faith has made the switch to being a support player in iG well. With excellent ward placement as well as good positional play, the drafter of the team does an excellent if often overlooked job. While not as flashy as his other teammates, his strategies have allowed iG to become the team they are today.
Signature heroes:
Predictions for G-League:
Even though iG failed to deliver at the G-1 Champions League finals, their run since The International 2 has been nearly flawless. Having had the time to analyze their mistakes and re-invigorate their practice regimen, there is no reason not to expect great things from iG.
They have arguably the easier of the two groups and should be expected to secure themselves a fairly convincing straight seed into the semi-finals. While they will encounter greater resistance during the playoffs, they remain the favourites to take home first place.
Any opinions expressed in this article are solely those of the editor's, and do not reflect joinDOTA as a whole.

Image of iG taken at The International 2 copyright of Valve Software.

Credit and thanks to the guys over at DotA Academy for their amazing statistics!
Sources:
Invictus Gaming Facebook
Related Content: