The Pro Rating in numbers
A few weeks ago we
introduced
the 'pro rating' to the community for the first time. Since then we kept working on it in the background. After we changed some details and rated the first matches, it's time to go public.
We changed the base value from 10 to 5. Along with that, prize money reduction starts with a rating below 0 (this change is purely cosmetic. It makes it easier to check whether a rating should be considered positive or negative).
Categories and Rules
We divided the possible infractions into seven categories:
Punctuality
Pauses
Roster
Rescheduling
Communication
Behaviour
Other
To make it more understandable, which things get punished, how exactly they are punished, and why we do that, we've collected the most important definitions and added explanations for all categories. You can read it all
here
.
The Defense ratings
After two weeks of The Defense 3, we have experienced enough matches to have a rough idea about how everything will work out. We are now confident enough to show all details to you. You can see them in our
spreadsheet
.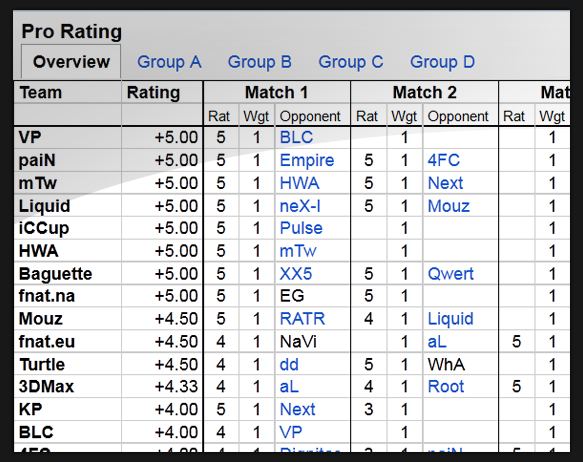 The overview shows the overall rating of the 32 teams. If you don't know how it's calculated, have a look into the original
announcment
. If you switch to the sheet of a certain group, you can see all infractions from all teams for all matches. You can see the date, the opponent, and the referee who observed the match and did the ratings.
The 5 infraction columns (we will hopefully never need more) tell you the category, the exact misdoing, and the punishment of an infraction. The status of a match can be upcoming, current
(= it has been schedule or is currently getting schedule), finished (= it has been played and the referee has entered infractions), or confirmed (the head admin has double checked the rating).
If you have feedback or questions about any decision, feel free to open a thread in the forum or contact the administration in any way.
Sources:
Pro Rating Introduction
,
Category Overview
,
Current Ranking