Defense Season 3 Starts tonight
The qualifiers have ended and now the teams get to dig into the first playday of
The Defense
Season 3; looking to get off to a good start and also put on a show for all the DOTA 2 fans. Our first playday will give us
iCCup
vs
Pulse
and
mTw
vs
HWA
playing out their matches from group A and B respectively.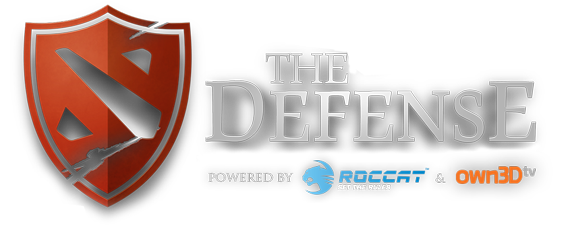 Elite supporters who were able to show off their
'Fluffy'
Defense courier in the past days can finally use the other half of their ticket to watch The Defense matches inside DOTA TV. The live stream remains free as usual for everyone else who is interested in following up on the tournament via the web browser.
The DOTA TV ticket is priced higher this season as part of a trial developed in partnership with
Valve
to see the potential in running a large scale tournament with the supporting funds coming from the sale of DOTA TV tickets. With raising the price, we are also raising the quality of the tournament. With an extra 8 teams and a higher prize pool, you will have access to up to 186 matches available through this one ticket, and we have also added a bonus courier included in the price so you can proudly show your support for the endeavour.
Offical livestream partners for this season of
The Defense
will provide not only their livestream options on own3d.tv but also in game on DOTA TV. Through the 5 available languages we will have
StarLadder
,
Antena
,
FroggedTV
, and
Saga
. All other streamers are invited to use the DOTA TV system and their
own3d.tv
accounts to provide coverage to their communities.
Loading...
Sources:
The Defense Homepage
Related Content: