Fluffy Devourer of Weeds and The Defense 3
posted by
Moose
,
3 years ago
Tickets for the third season of
The Defense
are now available in the Dota 2 Store, but unlike before, this season's ticket comes stuffed with some extra wool...
As always, The Defense aims to bring you nothing but breath-taking, high-octane, top class Dota 2 action, with entertaining and insightful commentary. Unlike always, we are also looking to reward our faithful Defense fans with some inventory-pimping goodness. We proudly announce that
every
ticket pruchase comes with a special edition, complimentary companion, exclusively crafted by joinDOTA:
Ramnaught of Underwool, the Fluffly Devourer of Weeds
.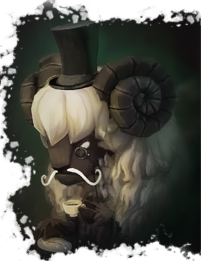 Courier's are the unsung heroes of the endless strife that is Dota. No matter how awesome you are, trotting all the way back to base to get your overcompensatingly large sword will humble you down some. It's those busy little critters that keep us in steel and our bottles topped up on charges, so that we can concentrate on the much more epic battle. And they don't ask for wards, or rewards, or complain when someone didn't pay attention and let them die.
Inspired by that concept, we started working on our very own courier, exclusively for The Defense, because that's just the right place for such heroics. For the many obvious reasons, we decided to roll with a sheep courier, and started brainstorming, doodling, sketching, sculpting, drawing, modelling, stuffing, crafting, texturing and generally creating, until the process gave birth to Ramnaught. Now we're looking to give him away to you, the community.
The beasts of Underwool are terrible bringers of death and destruction, demons of shadow afflicted by a black wizard's curse that has ensured they are forever cute and fluffy.
We would like to officially thank our inhouse pixel-pushers
lilamiez
and
bukKkk
for the concept, concept art and 2D work and the talented and seasoned Workshop-leviathan
Vladimir the >implyer
(buy some more of
his stuff
, will you?). We'd also like thank
Valve
for their continued support for both the Defense and the Dota scene in general. You can check out some of the concept drawings and work-in-progress developments by clicking the image below.

The ticket sale has already started, so if you want to watch the early matches of The Defense Season 3 next week, starting
December 4th
, grab your ticket right away for the price of
8,99€
, and enjoy your grumpy yet reliable new courier.
Sources:
The Defense 3 Ticket
,
Vladimir´s Dota 2 items
,
Blueprint Artwork
,
Wyk´s fanart