KuroKy: I learn from my experience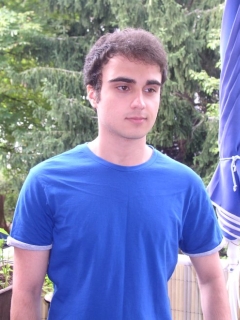 ProDota.ru catches up with Kuro
'
KuroKy
' Salehi Takhasomi to ask him about his time in Virtus.Pro and find out what else is in store for the German superstar.
Hi, Kuroky. I'll start with very important question – are you still playing for Virtus.Pro?
Hello. No, I'm not part of Virtus.Pro anymore. All I can say is that their current roster consists of NS and Santa. Everything else has not settled.
Why did they kick you? What about contracts? Were they canceled by the organization?
I guess they don't think that the current roster works out, it's very hard to play with one guy from another nationality; I was simply disturbing the flow of the team, that's what I think.
Let me cite your words from a recent interview: "Realistically, all teams besides Na'Vi don't provide the skill level I am interested in. I'm not looking for some top eight placements." So before joining Virtus.Pro you thought their skill is enough to compete for top one? Do you still think the same?
All players of Virtus.Pro have very high experience and skill, with more time the team would be a strong contender. We lacked strategies in our games, or at least we couldn't execute them the way we wanted.
About my statement, at that time I was much more confident in my skill, but the last few months showed that I need to work much harder. My working moral is very bad, be it Dota or real life. I really need to work on my mindset.
Was it hard to play with four Russian speaking teammates?
Yes, I wasn't feeling at ease at all; I don't think I will repeat this "experiment" in the future.
Why were Dread and Azen were kicked before The International qualifiers?
I don't know, I was just told that the new roster had a better chance one day before the qualifier started. I didn't want to interfere in this decision, because the time was so close to the qualifier. Personally I wanted to keep Azen.
Did you take part in any decisions of Virtus.Pro? For example, kicking players, not attending DreamHack, etc.
No. It was sad to miss dreamhack, I really wanted to go and meet my friends again.
NS recently said that you personally couldn't practice in May and beginning of June. Is that true?
Yes, I was on vacation, so I couldn't practice. But it was only for six days. It was very unfortunate timing, because of the qualifier.
Do you have some complaints about the Virtus.Pro organization or managers? Did they pay you salary accordingly?
Virtus.Pro took great care of me, no complaints - really great guys.
Do you regret about not joining Mouz about a month ago? They placed in the top 3 at DreamHack and in The International Qualifiers. At the same time VP missed DreamHack and placed 5-6 in The International Qualifiers.
No regrets at all. mouz is great but I made a conscious choice and live and learn from the choices I made.
So next time in the same situation you'll choose a lower salary and a European team?
The decisive factor was playing with my friend (Azen), the salary between Virtus.Pro and mouz were very close. Another factor was that I was really interested to play with NS, because I respect him as player a lot.
Can you comment on this picture? It's quite popular in CIS.
Haha. I was taught some good stuff in my time in VP, so I needed to spread the love.
A bit an off topic question but… Tell us the history of your nickname. It was always interesting for me to know it.
My old nickname, when I started playing in battle.net, was Shad0w) (I was 12-13 years old back then); I just wanted to use a more "professional", unique nickname, it has no special meaning, just sounds cool and looks nice.
Did you watch DreamHack? Tell us your impression.
Yes I watched it and my prediction failed. I expected Na'Vi to take first and mTw second, so I was surprised. mTw showed that hard work and determination will show results, I was very happy for my friend kebap. Furthermore, it's good that mTw kicked Puppey's ass, so Na'Vi will finally be serious again and show some great Dota games.
What can you say about another Ukrainian team - Darer? Did they fail to impress you?
They need much more time to develop, it's normal for a new team.
Let's talk about future. What plans do you have? Maybe retire from Dota?
I was contemplating about retirement after the qualifier, but my fans cheered me up really well and I am still very interested to play competitive Dota, so I wanna stay and show some results in the future.
Will you create a new team or join some existing one?
I think I will try to build a German team, time will tell.
Few words about Russia. Have you ever been to Moscow?
Yes, I have been to Moscow. Beautiful city, I hope to visit it some time in the future.
Do you like vodka?
Haha. I don't like alcohol in general, but if I drink, then it's vodka.
What do you think about Russian players in Dota 2? Do they insult everyone? Should Valve create an isolated server for them?
I barely have this problem in my games, I think people should just relax and play, it's just a game.
What do you know about prodota.ru? Have you visited this website?
I can hardly read Russian, so its hard to visit for me. If I learn more Russian, I will surely come and visit the site.
Few words in Russian for our readers?
Haha. Tashi Myaso!
Thanks for this great interview. It was a pleasure to talk with you. Do you have any shoutouts?
Thank you, too. Shoutout to my German friends, dotasource.de and good luck to Vtirtus.Pro, NS and co; it was a enjoyable time.
Sources:
ProDota.ru