Toby's first day at Valve
joinDOTA
caster
Toby '
TobiWanKenobi
' Dawson will be working closely with the guys we love so dearly over at
Valve
for the rest of this week. He has just finished his first day at the magical land, and here a picture that he would like to share with you which gives a teaser of what is still left in store for Dota 2.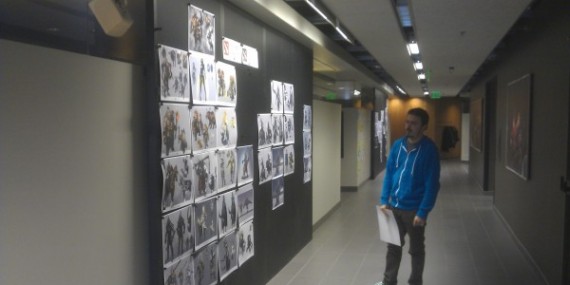 Valve developer Finol showing a Dota 2 concept art wall
The picture reveals significant information about what Valve has in its works now; showing a full wall of Dota 2 hero concept art.. one of which Toby confirms will be out today. The best part though is that this is just one of
three
concept art walls!
After his surreal day at Valve, Toby has given the following statement about his stay so far:
Hey all, I arrived safely in Seattle and was able to rest up last night. I am writing this as I am about to go to sleep after my first day at the Valve office, and really just wanted to share a little bit of my experience with you. Obviously I cannot say much and cannot show much but I was able to take some pictures at non-revealing angles, but it is better than nothing.

I met the whole crew at Valve and spent a lot of time with the development team of Dota 2 (played some games on the internal client as well). It is amazing to see the creation process of all the different stages of the development of the game, and not only the talent of the staff but the vibe and energy they have and how the put that into their work. These people love Dota 2, they love their job, and I am sure we all feel that passion with each patch released.

I will give you more updates soon, and hopefully some more pics from different areas of Valve, and will see if I can get the holy grail shot, the picture of Icefrog's desk (no promises).
Toby will give another update regarding his adventure at Valve in a few days so be sure to stay tuned to joinDOTA!