CLC's 357 talks Dota2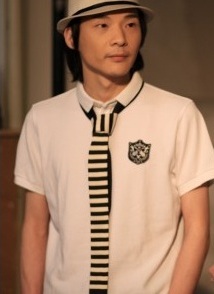 Chinese star Yao '
357
' Yi has achieved success throughout his career, being part of the 'invincible'
EHOME
in 2010, winning 10 Championships that year alone. Now at new team
CLC
and at 27 years old, he is one of the oldest active professional player. Despite his age, 357 has still maintained consistent skills and constantly stepping up in games.
In an interview with joinDOTA, the low profile player talks about his current team CLC, China and Dota 2, playing in ProDOTA2 and more.
CLC was recently formed from a mix of players that played for teams such as EHOME, Nv.cn and iG previously. What brought you 5 players together?
Each of us know each other well personally, and some of us had played together in the past such as Dai, KingJ, and I for a long time. We wanted to continue playing after leaving our respective teams, we so decided to get together.
How difficult was it to establish a clear playing identity/play-style for CLC whilst having members from different teams?
Just like many teams, it was difficult at the start to find our play-style, especially having members from different team backgrounds. The only way we will overcome this through practice, and practice only. In fact, right now there isn't truly fixed roles for us yet, except KingJ playing the carry role.
Star players have formed teams together many times in the past, however few have truly shined. What are your thoughts on the current team chemistry for CLC?
The present team chemistry for CLC in my opinion is very mediocre, nothing special. We really need more practice to be able to compete with the top teams in the world be it in DotA or Dota 2.
We have rarely seen any participation from Chinese teams after TI and ESWC Paris until joinDOTA Masters. Why is it so?
The public are still playing DotA and few have Dota 2. Local competitions are frequent and the DotA competitive scene here is extremely strong, therefore teams have a lack of time to train for Dota 2.
Recently we have seen an influx of Chinese teams into Dota 2. What is the motivation behind this? Is this because there are more Dota 2 tournaments inviting Chinese teams?
With The International 2 approaching, China teams naturally want to accept invitations to practice and play Dota 2. However, another motivation would be our bad results in the joinDOTA Masters, prompting us to join more competitions to improve.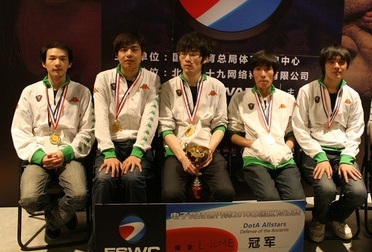 EHOME winning ESWC2010. From left to right: 357, Burning, 820, KingJ, Dai
You participated with your ex team, EHOME, in The International where you guys came out to place second losing only to Na'Vi. Na'Vi then beat down EHOME again in ESWC Paris. What do you think of the current state of European and Chinese scene?
Presently there are still gaps, especially with Dota 2 having a much different meta game compared to DotA. It is possible to beat top Dota 2 teams, but only when China shifts its focus from DotA to Dota 2 for some time.
EHOME has stated their wishes to venture into the Dota 2 circuit once again with a new team. How does that benefit the Chinese competitive scenario?
EHOME is the most successful DotA team, and this announcement will definitely encourage and improve the Dota 2 scene in China!
The limited hero pool in Dota 2 saw other heroes such as Leshrac and Silencer getting picked more, with people discovering the heroes' potential. Do you feel that there are heroes that have competitive potential, but just lacking the niche number of heroes in Dota 2 to exploit their potential?
There are heroes that can definitely gain more spotlight with the right play. I have always felt that the SEA teams have had a good understanding and play of Tiny and Ursa, and I feel that these are heroes that pose a lot of danger when used in the right strategies.
After the recent patch, heroes such as Lycan, Lone Druid, Shadow Demon etc. are out. However, heroes such as Panda and Chaos Knight are still not available. Is there a hero that you feel the Chinese scene favors a lot and would make a game changing impact to the current meta in Dota 2?
To be honest I'm not sure if one hero could make such a big impact in the game. I honestly thought that Lycan and Lone Druid will affect the meta game a lot, but right now it seems that although they warrant bans or early picks, their impact is not as great as I thought it would be.
YaphetS came into the spotlight again for training high level accounts in exchange for money. What are your thoughts about it?
I have not much understanding about these matters, therefore I would refrain to comment on it.
You will be participating in ProDOTA2 League, where the Asia region consists of top teams from SEA as well as your fellow friends DK. Which team do you feel that has the most advantage? What can the community expect from the Chinese teams?
In the Asia region, I feel that all SEA teams are strong as they are more exposed to Dota 2 than we are. Defeating two teams in the league would already be an achievement for the Chinese teams in Dota 2.
Finally, although the ProDOTA2 League starts off in the Asia region, teams that advance into the playoffs will face EU and American teams, and there will be latency issues. How do you cope with this disadvantage?
We understand this is inevitable. US West is the only western server that is playable for us, and even then the delay will be better during 3am to 9am. We hope we can play during these hours to minimize our delay.
Throughout the interview, 357 presented himself in a very humble manner, and there is no doubt that he is indeed one of the most silent but deadly players in the game. His team can be seen playing in the ProDOTA2 League, and joinDOTA will continue to bring updates of CLC.

From Left to Right: 357, KingJ, Dai, Awoke, Crystal
CLC team roster:
Yao '
357
' Yi
Zhou '
KingJ
' Yang
Lei '
Dai
' Zengrong
Ye '
Awoke
' Liang
Shen '
Crystal
' Jiaqi