Mushi: I miss my time in China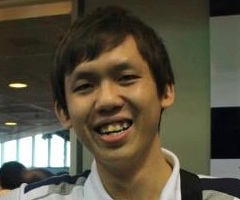 Little has been heard from Malaysian superstar player, Yee Fung
'Mushi'
for a while now. SGamer caught up with Mushi for a rather lengthy interview which talks about the team's performance at the Razer Dota 2 tournament, his retirement from compettive play, his thoughts on Dota 2 and his time in China in the past. We at joinDOTA had the interview translated for your reading pleasure.
Mushi has had stints in some of the most successful teams in Malaysian DotA history such as Nirvana.MY, Cybertime and now serves as the coach of team Orange. He has made a name for himself by picking and playing, to much success, unorthodox heroes such as Ursa Warrior and Templar Assassin in competitive games.
First of all, a big thanks to Mushi for agreeing to this interview with SGamer. Why not introduce yourself.
Hello everyone, its been a while since I gave an interview, and I'm feeling kind of nervous.
Late last year, you decided to retire temporarily, but then became Orange's team coach. Why did you have such plans?
Probably during the formation of Orange, there was an influx of tournaments but our results were just so-so. I felt tired after all the tournaments finished and thus I decided to take a break for a while.
Not long ago, Orange's managing director did an interview with joinDOTA, in which he mentioned that Orange is setting up a Dota 2 homebase in Wangsa Maju, Kuala Lumpur, to be completed by the end of March. How has it progressed so far? After that will the team be switching over to Dota 2 full time?
We already found a new place which can provide us with a better training environment. Our new homebase is expected to be finished by May. The Pro team and Academy team will primarily be focused on Dota 2.
You once said that you will not retire until you get a championship title. Does this mean an international title? When will we see you making a comeback to the competitive to finish this goal?
Its hard to say really. I believe that since I am still young, I should work hard towards my dream. My goal is to play every game with all my heart. A championship title will come in due time as long as I put in effort.
In the recently concluded Razer Dota 2 Tournament, Orange was the team predicted to win the whole competition, but in the end managed to only place second. Can you give us a short analysis for the reason behind the loss?
During that tournament, we played three games. The first one was against MYM, then against Aeon and finally against Mineski. I think that during all three games, we did not really perform very well. I think the biggest issues for us losing out was due to a lack of communication.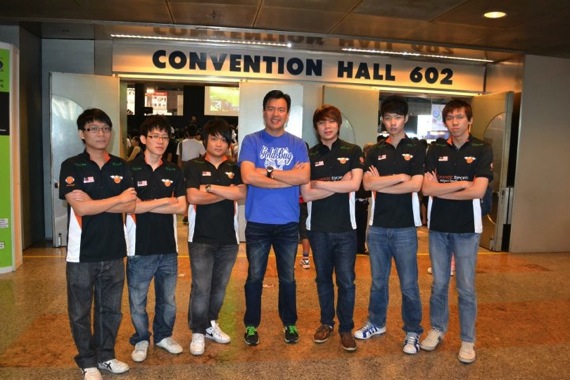 Winter, Xtinct, Yamateh, Frank (Orange Managing Director), Ice, kyxy, Mushi. d
Can you give a short description of your team mates?
Kyxy likes to stay up and play games until early morning then ask me to go play basketball with him. I always say that he is kinda crazy. Xtinct is the oldest in the team, but occasionally acts like a small kid, which makes us laugh. Ice likes to ask us to go sing karaoke and then show off his sing voice. Winter is the weirdest; he does not like the smell of cigarettes, he'll feel very uncomfortable whenever he smells cigarette smoke. That is why whenever we go out to eat or just to chat, we have find somewhere where smoking is prohibited. As for Yamateh, he will start laughing due to small things and everyone will start laughing. But the problem is, we don't laugh because it was funny, but because Yamateh's laughter is just too funny.
Let's talk about the South East Asian pro teams shall we? Have they all given up on WC3 DotA and moved on to Dota 2?
A lot of the SEA international tournaments have started to use Dota 2. Tournaments using WC3 DotA have also decreased in terms of frequency. Currently, Vietnam, Thailand and the Philippines are still very focused on WC3 DotA. As for our team, as long as we are qualified to play, we will play in any tournament be it WC3 DotA or Dota 2.
Dota 2 has the backing of Valve and is a game that people have their eyes on. Currently in Europe, there are a lot of Dota 2 teams as well as better benefits for them. How about the professional scene in Malaysia? Is there any changes in the players' salary and benefits?
Everyone has their eyes set on Dota 2's future and with that a lot of team's benefits have increased. But there is little to no change when it comes to Malaysia because the gaming scene in Malaysia is not as developed as other countries. It is already considered really good if the Malaysian teams can get a salary from their sponsor. Even RM1000 for each player is already a hard task for sponsors. That is why in Malaysia, the players will look at the prize money before they play in tournaments, I hope that in the future, there will be more sponsors willing support the Malaysian gaming scene.
Among the current Dota 2 teams, who do you admire the most?
From Europe it would be Na'Vi. If it is just SEA, then it would be MUFC and Mineski. *laughs*"
The International 2 has already been confirmed to be held in Seattle, America. Will we be able to see Orange participating then?
If we win a qualifier or got a direct invite, we will definitely be there to compete. To be able to participate in such a big event would be a great privilege.
Dota 2 has already been updated to reflect 6.74's changes. In those changes, your specialty heroes, Puck and Templar Assassin, were both changed slightly. Can you share your thoughts about these changes?
Templar Assassin's Psi Blades hit farther now, she is already really powerful and with the added range makes her even better. I think it will be picked more frequently in competitive games. As for Puck, I think removing Puck's autocast on Phase Shift is good, it doesnt need mana anymore. Aghanim's on Puck is also a little more potent now, but I don't think this change was neccessary, unless other core items like Blink Dagger and Hex are bought first, then considering Aghanim's is more viable because it gives more stats."
Let's talk a little about your personal life shall we? Besides training, what else do you do?
Besides gaming, I like to hang out with friends doing activities like singing Karaoke, watch movies, go bowling and so on. Sometimes I'll follow my brother to play some basketball, I've recently started reading to update myself a little."
What are your plans after this?
Every professional player will have his future in mind, as for me I would like to learn more about communication and how to manage a team during my time in any team. Anything further is still very far away, so lets not talk about that for now.
What are your thoughts about Dota 2? What is the hero that you are most looking forward to being added in?
At the start, I felt that WC3 DotA was more fun. Since our loss at ESWC last year, I made a promise to myself to play Dota 2 to a higher level. I placed a lot of pressure on myself for losing. In the end, I find that Dota 2 is a great game. I'm most looking forward to Techies and Templar Assassin being added to the hero pool.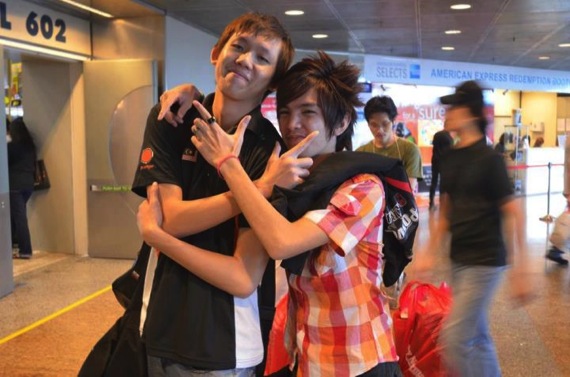 Mushi with Wootz. Enemies in game, great friends after.Photo by GosuGamers.
Do you miss the time you spent in China? Are there any plans on returning to China to play professionally?
I do miss my time playing in China. Thinking back, I was very immature. So much that I hurt some of my teammates who I would like to say sorry to. Currently, I prefer Dota 2 and China is still putting more emphasis on WC3 DotA, so right now, I have no plans to head back to China to play. But who knows what will happen in the future? *laughs*
Do you like Chinese girls? Compared to Malaysian girls, which do you prefer?
Comparing Malaysian girls and Chinese girls, I prefer Chinese girls because I feel that they are a little more mature. There are mature Malaysian girls, but I have no luck in meeting someone like that.
How did you spend White Valentines? Anyone on your mind?
White Valentine Info
I do not have a girlfriend, just spent my White Valentines in the net cafe. *laughs*. I do have someone that I admire, but I know that we will never be together so I think that it would be better if I focused on my work more."
Your good friend, ChuaN is still in China playing and has achieved some very good results. Is there anything you want to say to him?
His accomplishments in China are very good. I look up to his success, but I understand that being alone in a foreign country is not easy, but he still persevered. I just want to cheer him on and wish him the best of luck. You will be the pride of Malaysia. "
Can you tell us some gossip about Yamateh?
He will play Dota 2 by himself sometimes and his id is Orange.Y, sometimes he will get bulied by pubs. For anyone who has been bullied by Yamateh before, you can take revenge in Dota 2! *laughs*. Sorry Yamateh, sometimes you gotta betray your teammates. *laughs*
Thanks again Mushi for doing this interview with SGmer, we hope to see you back in the competitive scene soon and play some great games for everyone. Best of luck to Orange!
Thanks SGamer, I would like to say a big thank you to all my fans and all my sponsors, especially Orange. I miss all my friends from China, even though we cannot play together like before, you will all be in my heart. I believe we will be able to play together once again. May SGamer get better and better!
Sources:
Source (Chinese)