Na'Vi takes home $3,000
The showmatch between
Natus Vincere
and
DTS
has ended with Na'Vi coming out on top. Playing without their captain,
Clement
'Puppey'
Ivanov, Na'Vi allowed Dark Seer and Invoker to go into the pick phase. Despite that, Na'Vi superior skills proved formidable.
In case you have missed the showmatch, we will break it down for you here while you wait for the VOD to be uploaded.
----------------------------



Radiant (Na'Vi)



Vengeful Spirit, Venomancer, Sand King, Anti-Mage, Broodmother.



Dire (DTS)



Earthshaker, Crystal Maiden, Invoker, Enigma, Dark Seer.
Just minutes before the showmatch began, V1lat informed joinDOTA that the showmatch will be a best-of-one rather than a best-of-three due to time constraint. In fact, the time is so scarce that the draft was done verbally beforehand and the game started out in All Pick mode.
Not much information is known about the bans of this showmatch but DTS somehow ended up with both Invoker and Dark Seer. This came odd to all as Na'Vi is known for banning Dark Seer. Puppey jokingly said Na'Vi may lose this in ten minutes judging on the draft.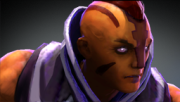 On the other hand, Na'Vi picked Anti-Mage as their main carry and Broodmother as their secondary carry.
The game started out with Broodmother facing Earthshaker and Crystal Maiden at the top lane. An early Sentry Ward slowed down the advances of the Spirderlings. Dark Seer had a terrible start in the tough lane facing a semi-trilane of Anti-Mage, Venomancer and a roaming Vengeful Spirit.
DTS responded to this by commencing a massive push down the middle lane. Sand King managed to get the deny but paid the price with his life. Despite having a rough start, Broodmother is able to farmed up to 46 creeps when DTS gathered in mid. Na'Vi had 2k gold advantage at ten minutes.
Although having less pushing power against Na'Vi's anti-pushes, DTS pushed hard at bottom lane at the cost of Sand King buying his Blink Dagger at 17 minutes. The push continued on the top lane. DTS took down Na'Vi's two outer towers although three of their heroes died shortly after. Dark Seer bought Pipe of Insight complimented by Mekansm on Enigma.
DTS went for Roshan at 22 minutes after picking off Venomancer shortly after. Since the level of the heroes were still considerably low at that time, DTS took a long time to kill Roshan. Na'Vi bounced back after they revived and immediately ran into the Rosh pit to defend it. Although DTS got the Roshan kill, Vengeful Spirit from Na'Vi picked up the Aegis of Immortal.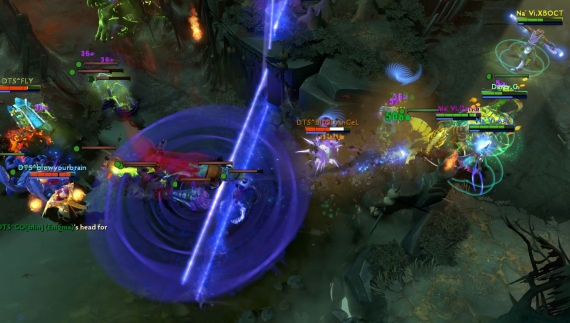 Messy fight at the Rosh pit.
It is all downhill from there for DTS as Anti-Mage completed his Manta Style and Broodmother took down the top barracks while they were busy fighting.
Interesting note: Wonder how Invoker and Dark Seer made it to the pick phase. Though Dark Seer is a massive turtle hero, DTS did not utilize it for its turtling ability but for its anti-push instead.
----------------------------
Na'Vi walks away with a cash prize of $3,000.
During the broadcast,
Toby
'Tobi Wan'
Dawson also mentioned that there will be an announcement coming up in a day or two. Stay tuned to joinDOTA for more information on the upcoming announcement.
Related Content: