Quantic Gaming snap up dd
From one renowned sponsor to another: the Danish squad, who only recently parted ways with
SK Gaming
, have quickly found themselves a new home with the American powerhouse.

Many were surprised that the team's brief time with SK Gaming came to such a sudden end, but the split was amicable, and the loss of their sponsor did not deter them. Indeed, with the addition of former
MYM
mainstay
MaNia-
at the turn of the year, the Danes fortunes have been on the ascendancy – they won the
Dota 2 Europe Challenge
and qualified for the final four of
The Defense
earlier this month.
By playing in such fine form, its no wonder that they quickly attracted attention from other organisations, and now they find themselves under the brand of
Quantic Gaming
.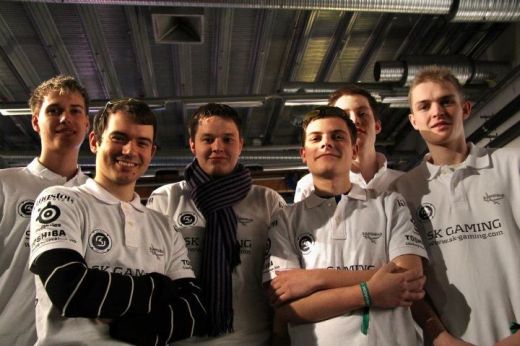 Founded only in 2010 by a small group of Battlefield players, Quantic Gaming have quickly established themselves as a premier sponsor, amassing five Major League Gaming titles across their various teams, amongst other honours. And with the likes of top-tier StarCraft 2 players such as
Destiny
,
NaNi
and
SaSe
in their ranks, the all-star Danish DotA mix are now undoubtedly alongside highly adept company in the American organisation.
Quantic's Gaming Director,
Brad Carney
, has the following to say regarding the pick-up:
Everyone here at Quantic is extremely excited to take this first major step into the Dota world. We feel that Dota 2 is only going to grow larger as a staple game within the eSports scene and we intend on being on the forefront as one of the tip-top teams around the game. We spent a long time talking to different teams and found that the guys at DD are some of the most driven and experienced players around. We are all very enthusiastic to have DD in our family.
In an exclusive interview, joinDOTA spoke with one of the team's carry specialists,
Sylvester '
Link
' Hoelgaard, and their manager,
Gaëlle '
MystresS
' Pavillon, on their new sponsorship:
Hey guys, thanks for taking the time to speak with us, and congratulations on your new sponsorship. Can you tell us how does it feel to be a part of Quantic Gaming now?
Link

: Thanks, we waited for a long time and had a lot of different offers until we found Quantic or they found us and it feels great to be a part of something bigger once again.
MystresS

: We are extremely happy to join Quantic. We have been on the same page with them from the beginning and we are honoured to be representing such a trustworthy organization. It is truly great to feel taken care of as we are at the moment.
Does it feel any different to be part of Quantic now, rather than SK? Are there any extra pressures or incentives for you now that you wear the Quantic tag or have a new deal, or anything that makes it more special?
Link

: I feel there is a little more pressure when I play under an organisation since they trusted us and I do not like disappointing people.
So can you tell us how this deal came about, and how it was concluded so quickly?
MystresS

: We were introduced by Razer and this is the result of very frequent contact with the organisation. I have been in close contact with them for weeks, and we have discussed it during long hours on Skype. We immediately knew that we wanted to work together, and we knew from the get go this was the perfect home for us.
And were there any other organisations competing for your signatures?
MystresS

: We were indeed talking to several organisations, and received all type of offers. Some of them were interesting but as soon as we contacted Quantic it felt right to be working with them.
MystresS, you've recently joined the team as the manager after leaving Infused, to replace eatenfish. What was your reason for leaving them to join this team? And how do you feel your arrival has impacted the team?
MystresS

: I really loved Team Infused, and still do. They are a great bunch of guys and extremely underrated if you ask me. They will get far, I am sure of that. I left them because I felt that we did not work in the same way and I wanted to find a better fit for me. I am so glad now to have joined the Danish team as we are like-minded and work hard to reach our goals. As for the impact I have had on the team so far, well, I think that securing them a great sponsorship while they are able to focus on their practice is the most important thing I have done.
In addition to team management, we also saw you organise the wildly successful Infused Cup tournament before you left them. Now that you're part of Quantic, what are the possibilities of you organising another Dota 2 tournament on behalf of your sponsor?
MystresS

: The possibilities are very high. I loved organising the Infused Cup, and I was very happy with the outcome. I have plenty of ideas for the future, so stay tuned... *smile*
We've seen Evil Geniuses, Its GoSu and compLexity all pick up teams, and now Quantic have signed you. What do you think it means for the competitive DotA scene to have all these American organisations get involved?
Link

: It showcases that the game is growing and it will possibly have a snowball effect and people will have more faith in the scene as well as the future of Dota 2.
So what are your aims and plans for now? Will we be seeing Quantic Dota 2 participate at any LAN events in the near future?
Link

: We will attend any upcoming LAN and practice as much as we can!
MystresS

: I am very much looking forward to be travelling around the world with the players!
Okay, thanks for all the insightful responses. Any shoutouts?
Link

: Thanks to Quantic Gaming for providing this opportunity and thanks to everyone who follow and support us.
MystresS

: We would like to thank Quantic Gaming for believing in us, we shall not disappoint them. Also thank our sponsor Razer who has shown great commitment to make sure we were well taken care of.
Quantic.DOTA
Miggel 'miGGel' Berg (captain)
Christopf 'Ryze' Winther
Brian 'MaNia' Strandby
Sylvester 'Link' Hoelgaard
Martin 'AngeL' Olsen
Gaelle 'MystresS' Pavillon (manager)
Sources:
Quantic Gaming
Related Content: