Celebrity Challenge: Predictions
Waiting to see our Couple Celebrity challenge? Then lets cushion the wait a little with our short preview of the event. We asked our very own Rein and HolyMaster to give their thoughts on the event. GosuGamers' caster GoDz and Purge give their opinions as well.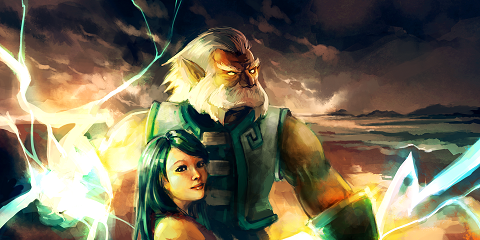 Personally which team are you eyeing to be the most interesting team to watch out for?
Rein:
The best team to watch for in this tournament is no doubt Team USA. The reason for this is pretty obvious because this will be the debut comeback for one of the legendary WC3 Dota players, Merlini, and people will be eager to see if he is still up to par with the rest or if he's just another higher pub player now.
HolyMaster:
I'm looking forward to Team USA the most, becauser other than Dendi, Misery and Jeyo, Merlini is not playing in a world class Dota 2 team at the moment. So it'll be interesting to see him play with his girlfriend. Besides that, it's a refreshing change to see some 2on2. I'm curious, if Tobi will manage to miss a firstblood.
Godz:
The Canadian couple. Because they're so damn cute.
Purge:
I am much more interseted to see how good the Dota playing girlfriends are as well as the talent of the sponsored PMS ladies. I am expecting the males to perform approximately equally, so I wouldn't say I really have a favorite team.
How about the strongest team?
Rein:
This question is tricky because most of the teams are composed of professional players except for Jeyo's girlfriend who is pretty much unheard of in the competitive scene. In any case, I think Team Asia will rampage through all their showmatches. Come on, Dendi and arguably best female player, furryfish? (Laughs)
HolyMaster:
Team "Asia" is probably the strongest team, because Dendi might be the best Dota 2 player in the world right now, and furryfish is definitely not a weaker addition than the other three women. However, since this is a unique event, and the metagame is quite unknown, every outcome is possible and realistic.
Godz:
Any team with Dendi - the guy is a beast. I'm sure furryfish could be his personal courier: ferry him items, be a "hero observer ward", and make him a sandwich while he just wins the game. Oops, not that last part. She's actually a very solid player in her own merits!
Purge:
I think that what will really make or break these 2v2's are the talent and skill of the females, as their skill range is surely much more diverse than that of the male counterparts, who all perform at a very high level. Because of that, I'm predicting that Team Asia and Team Europe will perform better because their females are sponsored. But you never know; it could go a lot of ways.
Being a 2v2 only mid showmatch, which heroes do you think will be a popular for our couples?
Rein:
Since this is a showmatch and not a tournament of any sort, I'm sure a lot of unconventional heroes will be used in this event. Though most people would say Dendi's Pudge is a sure thing, I would say the highly buffed Axe will be extremely powerful in 2v2. I would be really excited to see what they can pull out of their sleeves. Shadow Demon might also be big assuming it comes out before the event.
HolyMaster:
Unfortunately I don't know anything about the drafting procedure (Are there bans?), but judging from my own experience, the picks are insanely important in 2on2. Shadow Shaman (because he can disable both enemies for a long time and push really well) and Invoker (because he's freaking imbalanced) are the very best heroes for this mode in my eyes. Also very strong are Veno, WD, Lion, Viper, Huskar. Most matches will probably decided by taking down towers, but other weird strats can also be viable: I already played a 2on2 tourney in Dota 2 and lost to a SoulRing-Harrass strat with Brood and Windrunner. A lot of stuff is possible, it's just unexplored territory.
Godz:
Well it will depend on the format of the draft/picks. I believe it will mostly consist of teams who want to push and not die picking tanky hero who can push like DK with some support to complement him and the teams who want to try get kills who will get two heroes who can combo well and kill anyone who comes near.
Purge:
In terms of the heroes being played, I have no experience with a 2v2 only mid, but I would expect we will either see strong dual lanes with semi-carry potential like a Lich/Potm or a jungle+solo pushing like a Chen/Pugna. There are lots of ways to win, either pushing or getting hero kills, so I'm actually pretty excited to see what kinds of combos the players come up with. 2v2 OM has it's own explorable metagame, so it's probably pretty up in the air to how things will go.
The aim of the showmatches is to raise money for Child's Play. The target was set at $2,000. Do you think it is reachable? How much donations do you think is achievable from our celebrities?
Rein:
Considering how quickly we reached the first target level of donations of $500 (within a day without matches), I have no doubt that the community will do us proud and donate a little to this noble cause while the players battle it out. We should reach $2,000 without any problem and hopefully more. It's all for the children!
HolyMaster:
Yes, I think 2k is reachable. They already have more than 25% several days before the event. I expect it to be 3 or 4k in the end. Good luck with that!
Godz:
Absolutely. Already $562.50 has been raised, and I believe one donation was ~$150-200 because it spiked up very quickly from just one or two donations. Fans and supporters will look to try "out-bid" each other for that one hour lesson with their couple of choice and all the other cool prizes in the "Thank You" package. I'm sure we will see some individuals throwing down some large contributions although being the Dota community there won't be a huge quantity of contributors, just some quality ones. Hopefully my $10 donation can help this good cause!
Purge:
As for the charity aspect, I'm sure we can get some pretty decent donations and hit the 2k mark at least. Most of the charity drives usually revolve around people just playing DotA, so a fancy showmatch is sure to attract viewers, and I wouldn't be surprised at all if someone shows up and starts giving away keys to bolster numbers and donations.
Which team do you think is the strongest of them all? Be sure to vote in our poll
here
. Also be sure to chip in for a good cause if you can. Link can be found below.
Related Content: