Kev having a Puck of a time
Kevin
'kev'
Stegeman, former ex-EnRo and ex-LAN player is a well known face in the e-sports circuit. Fondly reminisced as the 'Immortal Puck' player for his ferocious game-play, Kev was a part of GGnet at
The International
as a stand-in, where he later became the highlight player for team GGnet.

Photo by Gosugamers:
Mooseman, Kev, Zeyall and Holymaster at ESWC, Paris
He also played under the
J4T flagship in
The Defense
where the team had a good run but was unable to make it to the play-offs giving him some down time in the world of DOTA 2, but is forever on the hunt for the next game.
He found a way to fill in the time by sitting down with 'Game Honour & TRDota' where they interviewed the German star in which he shares some thoughts about the German scene, Dota 2 and much more.
We all know that everybody admires your puck play. Some even call you "The Immortal Puck." What would you like to say about this? How did you achieve this perfection?
A big shout-out to all the people who think I am an "immortal Puck player", but to be honest I would not consider myself as a "immortal puck player" anymore. I just had some good moments with that hero. I am far away from playing it perfectly - I'm not even playing Puck in DOTA2 because i have the feeling its not the same hero as it used to be.
You represented gosugamers.net at The International. You were having some unsteady days. How was it feeling, participating in the largest tournament at those hard times?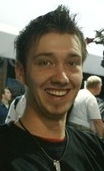 I was never a part of Team Gosugamers. I really wanted to play at the very first DOTA2 tournament therefore I asked Kuroky to get me in as a stand-in player to be sure I get to the event and maybe even a small chance of playing it.
The feeling of the tournament was extremely nice. Just to meet all players which you know for a long time now was the biggest reason for me to be there.
Whats your opinion about team GG's separation? Team GG no longer exists. Any thoughts?
After Puppey and Pajkatt left the team, I was sure this Team wont exist any longer. Kuroky does not have the same leadership skills as Puppey also Kebap and rmN are not as skilled as Puppey and Pajkatt. I know for a fact that if Kuro plays for a team, he wants it to be the No. 1 team in the world! - That wasn't possible with the last lineup.
Read the complete interview here
EDIT: We have been informed that Game Honour is not the only original source, but it is infact TRDota.net - The links have been changed to reflect this.
Sources:
Original Interview