TI3 Team Presentation: Na`Vi
While half of
Na`Vi
are stuck in Amsterdam over night waiting for their flight out to Seattle and this years
The International 2013
, it's about time we got to know the team who ended last year´s event in second place and who won the event the year before that. This is also our second last team presentation, as the series will be capped off tomorrow with the winners of the International 2012,
Invictus Gaming
.
Na`Vi started out as an all-Ukrainian team on October the 22nd, 2010. The first Captain of the team was
Artur '
Goblak
' Kostenko, and the team had taken a chance on young talented player
Aleksander '
XBOCT
' Dashkevich, although little did the organization know at the time that he would end up being the longest serving member of the team; the only person still around today of the original lineup.
The iconic Na`Vi lineup was slowly built up over the end of the year and the start of the next year, as
Ivan '
Artstyle
' Antonov and
Danil '
Dendi
' Ishutin left the famed 2010
DTS
behind in order to join Na`Vi in December with
Clement '
Puppey
' Ivanov coming over from
GosuGamers.Net
and
Dmitriy '
LighTofHeaveN
' Kupriyanov leaving
Moscow 5
in order to complete the roster in June of 2011. With this roster, Na`Vi competed at the first ever International, taking home the $1,000,000 first prize.
Directly after the event Artstyle ended up leaving the team due to disputes with the management regarding monetary issues. In his place the team acquired another former Moscow 5 player,
Sergey '
Ars-Art
' Revin, legendary semi-carry ganker who would transition into playing support for Na`Vi. While it took the team some time to get used to their new lineup, in particular due to their relaxed training schedule during the latter half fo 2011, the team eventually clicked and felt as strong as ever.
While Na`Vi dominated much of the the first half of 2012, the constant vacations and the lack of practice began to show around the summer, as the team came up short at
DreamHack Summer 2012
against
mTw
. Still, no real course correction was made, which lead into a rough bootcamp prior to the second International and a rough first day of the groupstages. Still, on the second day Na`Vi bounced back just enough to claim 4th place in Group B and move into the upper bracket. With a few days off in between, Na`Vi were one of two teams along with
Zenith
who managed to secure most of the available time at nearby
GameCluck's
LAN Café, where they were able to get in some practice before the playoffs.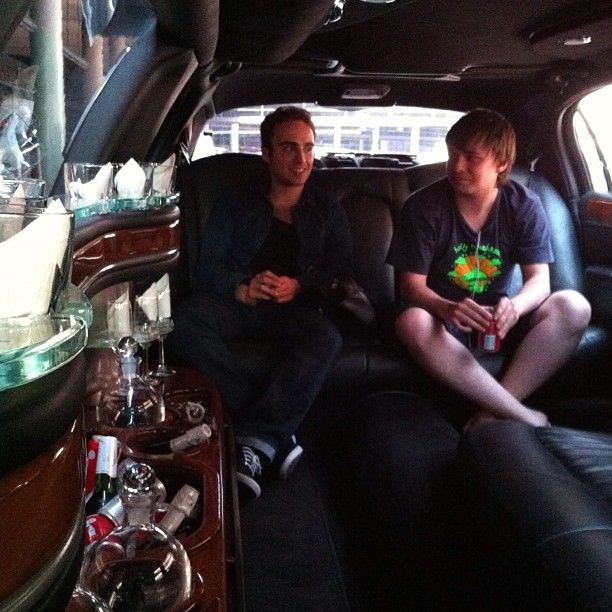 The old core of Na`Vi may be stuck in Amsterdam, but the new guys are already living it up in Seattle.
Photo taken from Valve's Dota 2 TI Instagram.
This practice seemed to pay off, as the Na`Vi that emerged was an entirely different beast, besting all oncomers in the upper bracket and making their way back to the finals once more. However, in the finals against
Invictus Gaming
Na`Vi finally ran out of ideas after their famous "
The Play
", as iG started to see the patterns and were able to outdraft and outplay Na`Vi,
taking the title back to China
.
While Na`Vi chugged along, winning their fair share over the later part of 2012, trouble was brewing within the team and eventually the two Russian players, Ars-Art and LighTofHeaveN, ended up leaving the team and taking a break from competitive play respectively in February of 2013. This lead to
Gleb '
Funn1k
' Lipatnikov who had made his name in
Team Empire
first being
announced as joining the team
followed by Puppey's old friend
Kuro '
KuroKy
' Takhasomi who was Captaining
mousesports
at the time
joining shortly after
.
The first signs of success for the new roster came with their victory on LAN at
RaidCall EMS One Spring Season
, where they beat
Fnatic.EU
followed by mouz and
RoX.KiS
in order to take their
first LAN event together
with the new roster. From this point onwards, Na`Vi seemed to slowly but surely gain steam, and eventually looked to start
keeping the promises made
in the aftermath of the roster changes.
The key promise had been a bootcamp in China, although the dates had kept on slipping they were
eventually set for late June until early July
, followed by
Alienware Cup #1
moving around their dates
in order to accomodate Na`Vi and their stay in China
. Although an online event, it allowed Na`Vi to play against all 9 teams based in Asia which would attend The International 2013 in some way. After a weak groupstage where they ended last, Na`Vi came back in the playoffs and
ended up defeating
LGD.Cn
in the finals, returning home with a lot of momentum behind them.
Back in Europe, Na`Vi kept up their good results, taking home victories in
D2L
and claiming their second victory in
The Defense
Season 4, heading into the pre-TI3 practice sessions on a high note.
Achievements
Before Roster Change
1st Place -
The International 2011
Cologne, Germany - $1,000,000
1st Place -
Electronic Sports World Cup 2011
@Paris, France - $12,000
2nd Place -
Star Championship (2011)
@Kiev, Ukraine - $5,000
1st Place -
The Defense #1 (2012)
- 6,000€
1st Place -
The Premier League Season 1 (2012)
- $5,000
1st Place -
StarLadder Star Series Season 1 (2012)
@Kiev, Ukraine - $6,000
2nd Place -
Dreamhack Summer 2012
@Jönköping, Sweden - 5,400€
1st Place -
The Premier League Season 2 (2012)
- $5,000
1st Place -
StarLadder Star Series Season 2 (2012)
@Kiev, Ukraine - $6,000
1st Place -
joinDota Masters Special Edition
- 1,000€
2nd Place -
The International 2012
@Seattle, U.S.A. - $250,000
1st Place -
StarLadder Star Series Season 3
@Kiev, Ukraine - $6,000
1st Place -
GoSu League Season 4
- $2,500
1st Place -
Electronic Sports World Cup 2012
@Paris, France - $12,000
1st Place -
GoSu League Season 5
- $2,500
3rd Place -
ASUS Final Battle of the Year 2012
@Kiev, Ukraine - $2,500
1st Place -
StarLadder Star Series Season 4
@Kiev, Ukraine - $8,000
After Roster Change
1st Place -
Bigpoint Battle #2 (2013)
- 1,500€
3rd Place -
TechLabs Cup (2013)
@Moscow, Russia - $1,500
1st Place -
jD Masters #13 (2013)
- $1,500
1st Place -
RaidCall EMS One Spring Season (2013)
@Katowice, Poland - $12,000
3rd Place -
WePlay Dota 2 League (2013)
- $1,200
5th-8th Place
DreamHack Summer 2013
- 10,000 SEK (~$1,500)
1st Place -
Alienware Cup #1 (2013)
- $25,000
1st Place -
RaidCall Dota 2 League Season 3
- $5,000
1st Place -
The Defense 4 (2013)
- $12,000
The Players

Puppey
(Captain)
Clement Ivanov
Signature heroes:
Puppey got his start in competitive Wc3 DotA during the summer of 2007 when he joined a upcoming team by the name of
Xero Skill
, who although they saw some moderate success by placing third in the
ESL Major Series
main contribution to his career was as a stepping stone, as he ended up moving on to
KingSurf.Int
during the summer of 2008, playing alongside such future teammates as Light and Ars-Art as well as Russian legends
Ivan '
Vigoss
' Shinkarev and
Vasiliy '
Jolie
' Pepelyaev.
While the team had tons of talent and played an excellent ganking game, they took a while to produce results, however they did eventually get their major victory in
DotA-League Masters
in Hannover Germany in 2009, defeating
Meet Your Makers
. Not long after however things started to fall apart for KS.Int, and with Puppey standing in for
mousesports
at DreamHack Summer 2008 he also played for the first time together with Kuro, who joined him for the final part of KS.Int as well as the attempts to keep the roster together after they left the KS name behind them.
As the old KS.Int reached the end of it's road, Puppey and Kuro moved on to
BFB
, which later became
Blight
and then by February of 2010 became
Nirvana.Int
. However due to ping concerns Nirvana.Int gave way to Nirvana.Ru, which in turn eventually became
TeamHome
as they left their sponsor behind, forming a team which gathered a number of former KS.Int players as well as
Vladimir '
pgg
' Anosov. But this was once again short lived, as after their failed bid for the
ESWC 2010 Qualifiers
where they lost to
DTS
, Puppey ended up rejoining Nirvana.Int for a while after the retirement of
Ben '
Merlini
' Wu.
This team in turn soon left Nirvana, taking up the name of
NewWorldOrder
, who later were sponsored by
GosuGamers.Net
. By this point
Clinton '
Fear
' Loomis,
Jimmy '
DeMoN
' Ho and
Steven '
Korok
' Ashworth had all departed from the team, leaving GG.Net to pick up an all European roster, with Puppey and Kuro alongside
Nikola '
Azen
' Belyakov,
Per Anders '
Pajkatt
' Olsson Lille and
Jesper '
Mirakel
' Nyhlén. This team would stay together for six months during early 2011, before Na`Vi came calling for Puppey in mid June, a path which he has been on since.
After the departure of Artstyle following their victory at the International 2011, Puppey has become the captain and drafter for Na`Vi and has become famous as one of the great masterminds of the scene. His strategic insight has, in particular during rough times, been the bridging force which has allowed Na`Vi to rise above and allowed for some historic victories against the odds, such as during their TI2 playoff run.
Puppey is however more than just a captain, he is a versatile and skilled player in his own right, one of the best Chen players in the world and overall probably the most versatile jungler in the world, with in particular his Lycanthrope standing out as a strategy the team has employed at times when Puppey has wanted to take a more carry role in a game. While he was the initial player of heroes such as Nyx Assassin and Io for his team, the addition of Kuro to Na`Vi has changed this dynamic a bit, and he has also on occasion relinquished his signature Enigma to Kuro as well.

XBOCT
Alexander Dashkevich
Signature heroes:
XBOCT got his start comparatively late, playing for
Planet-X
alongside
Bogdan '
Axypa
' Boychuk from 2009 until 2010, when the team lost two players following a defeat to DTS, causing the team to fall apart. Instead he would end up joining a brand new all Ukrainian team which was created in October of 2010, Na`Vi.
XBOCT was joined on the first Na`Vi roster by Axypa as well as Captain
Artur '
Goblak
' Kostenko and
Andrew '
Mag~
' Chipenko. By the end of the year Mag~ had left the team as well as their fifth player
Alexander '
Deff-
' Stepaniuc with Dendi and Artstyle joining instead in late December of 2010, followed by LighTofHeaveN and Puppey replacing Goblak and Axypa, who left the team in late April of 2011. By then the team was complete for the run at the first International and the start of their world domination.
XBOCT is often blaimed for much of Na`Vi's poor performances, with a lot of people, including himself, making light of his propensity for throwing games through questionable dives and high risk plays. While it is true that the lower the stakes of the game the more likely XBOCT is to take these risks, he is also one of the best laners among all carry players, an exceptional farmer and overall an exceptional player who does in fact carry his team to victory as often as not.
A more valid criticism of XBOCT has been his past inability to see the game as a true career, which has lead him to at times not take the need for practicing as seriously, especially when Na`Vi have been winning consistently. This was a major concern in the lead-up to the second International, where XBOCT arrived rusty on many heroes he had formerly been playing masterfully, such as Morphling and Brewmaster. In fact at TI2 his heropool was little deeper than Anti-Mage and Juggernaut, with his command of Naga Siren and Lone Druid being key strategic weaknesses for Na`Vi.
But this is largely a thing of the past, as XBOCT has looked a lot more committed since late 2012, often times practicing and streaming far more than anyone else on his team. This has payed off, as he has a very strong command of most key carry heroes for the current metagame, with his Lifestealer and Alchemist in particular standing out of the pack, as well as his continued mastery of the Anti-Mage, which seems to be one of the few heroes he has never gone rusty on.

Dendi
Danil Ishutin
Signature heroes:
After impressing as part of a team of friends at a Kiev LAN tournament, Dendi was approached by
Wolker Gaming
in order to join them around 2006-2007, playing alongside Goblak and Axypa. He found early success playing for his country and finishing third in
MYM Prime Nations
before seeing WG taking second place at
MYM Prime Defending
. The successes of Wolker caused KingSurf.Int to propose a merger, which saw Dendi, Goblak and Axypa move on to play most of the second half under the KS.Int banner.
By September of 2008 Dendi took a chance on a young team called DTS, but ended up returning to KS.Int six months later in March of 2009. Still the draw of DTS and their improvement was strong, as Dendi rejoined them by June of that year, and would stick with them for the next 16 months this time, rising to the highest echelons of fame as one of the star players of the 2010 DTS, the team famous for being the only ones who could give the dominant Chinese a run for their money during this period. Together with DTS Dendi took a second place at ESWC 2010 as well as finishing 3rd at
WDC 2010
.
By late December of 2010 Na`Vi managed to lure both Captain Artstyle and his star pupil Dendi away from DTS, closing the book on this chapter of DTS history and opening another, in which Dendi would become the most recognizable face of Dota and the most beloved player of Na`Vi, as they became the most enduring dynasty of Dota 2. As a member of Na`Vi he would also become one of the three main storylines for Valve's documentary about the first International, which will debut for attendees in Seattle at this years International.
Dendi is supremely talented as a mid player, posessing some of the best mechanics of any player in the game. Rutinely held up as the greatest Dota 2 player, Dendi is without a doubt a very strong and aggressive solo mid player. What is at times overlooked however is that Dendi is equally prone to taking risks which do not always pay off as his friend XBOCT, which is part of why the two play so well together and why Na`Vi has always struggled in games which the duo do not entirely take seriously.
Dendi is also best suited for heroes which have high mobility, such as Queen of Pain and Puck, which he supplements with his love for the Blink Dagger and Force Staff, as he seemingly becomes an omnipresent ganking force. While he is capable of transitioning into a semi-carry role for the lategame, his weakness has generally tended to be with patient utility heroes, such as his Magnus which is highly hit or miss. Still, when he gets to play the kind of heroes which fit him best, and when he gets the space which he needs, Dendi is absolutely one of the most mesmerizing players to watch in Dota 2.

Funn1k
Gleb Lipatnikov
Signature heroes:
Funn1k began his competitive career in 2010 with
sFs
, who would go on to take 2nd at
ASUS 2010
, losing to DTS. However, he soon moved on to
Fota
and then pgg's
The Retry
, where he closed out 2010. During 2011 he would bounce through another two Ukrainians teams,
Hard Team
and
eSahara
, before ending up in the remake of DTS in early 2012, which was lead by Goblak.
DTS showed great potential and an unorthodox playstyle during the spring of 2012 and for a time set the pace for CIS teams with their 4 Intelligence and 1 Tank strategies, focusing on winning lanes, single target lockdown and positional teamfighting. The quality of their play drew the attention of Artstyle, who recruited Goblak, Funn1k and Mag~ to join him as well as
Sergey '
GoD
' Bragin in
Darer
, with whom he ended up attending the second International, Funn1k's first.
While Darer was good experience for Funn1k, the results were lackluster and the team fell apart soon after. At the time Team Empire were looking for players, which caused Goblak and Funn1k to join them. Funn1k moved to the offlane after having played support in both DTS and Darer, and along with the style of Empire which favoured aggressive trilanes this gave Funn1k all the right circumstances to shine, drawing on his great abilities as a 1v1 laner and great snowballing heroes such as Clinkz.
Having quickly become the latest CIS superstar, garnering extra points with his versatility and his top notch Io support play, Funn1k for the first time presented a challenge from within the CIS community to LighTofHeaveN, which caused Na`Vi to make him an offer when LighT wanted to take a break from playing with the team, which eventually turned into moving on entirely from the organization. Without much hesitation, Funn1k accepted the offer and joined Na`Vi in the final days of February 2013.
Funn1k has since strougled a bit to adapt to a team which does not allow for as much space in order for him to shine. Given the old dynamic of Light as the most selfless of offlaners, he needed to find a balance between his love of flashy plays and the teams needs for a stabilizer, a counterweight to the aggression of XBOCT and Dendi. So far the hero which he has struck this balance with best has been Dark Seer, with Windrunner being another popular hero in recent times, as he is beginning to migrate into the heropool which Light used to play as well.

KuroKy
Kuro Salehi Takhasomi
Signature heroes:
KuroKy first came into the scene with
World Eaters
in 2006, having some success in competitions such as DotA-League. Kuro would stick by his team until they disbanded in 2008, at which point he joined mousesports, who were able to compete head on with MYM, defeating them in MYM PriDe. As
Kim '
PapaDrayich
' Larsson left mouz, Puppey ended up playing as stand-in for the team for a while, in particular at DreamHack Summer 2008, where they ended fourth.
After
Yaroslav '
NS
' Kuznetsov and LighTofHeaveN left KingSurf.Int Kuro and Mirakel were invited to join the team, where he would play alongside Puppey until the team disbanded in 2009. During the downtime Kuro tried out joining MYM for a short spell, but ended up leaving again, returning to Puppey's side as they went through the Blight/Nirvana/NWO years of 2009-2010, finally ending up at GGnet, where he would play from 2010 until 2011.
While Puppey left for Na`Vi shortly before the first International, Kuro stayed behind in GGnet and ended up playing for them during the big event. The team had a very rough run of it, going 0-3 during the groupstage and falling in their first match in the lower bracket, which caused Kuro to walk away from the game for a while, as he just did not enjoy playing as much without a world class team of his friend Puppey by his side.
Kuro did eventually slowly return to Dota 2, playing with german stacks
Panzer
and
10.000th
before accepting an offer to try and rebuild the name of
Virtus.Pro
in the Spring of 2012, together with NS and his friend Azen, turning down an offer from mouz in the process. However the VP roster never quite got off the ground, failing to qualify for the second International. Kuro still got his chance to go with back-up team mouz as a stand-in after
Alex '
ComeWithMe
' Craciunescu failed to obtain a visa in time.
Due to a misshap by
MUFC
on their way to Seattle, mouz got the chance to play at the International after defeating
World Elite
3-0 for the final spot, but due to a lack of practice the team had another miserable run at the event. Still, Kuro decided to hang around and joing the team full time after the event, becoming the Captain of the team and guiding it through massive roster upheavals as it slowly turned into an all German roster. As the team was starting to see some early success Kuro was called upon by his old friend Puppey to come join Na`Vi, which he did without hesitation in late February of 2013.
With Na`Vi Kuro has kept up playing the hard support role, something which when he first took it up with mouz caused a fair bit of grumbling among old fans who wanted to see the legendary player stay on his carry/semi-carry role. However by now there is no grumbling to be heard, as Kuro is one of the most rock solid support players in all of Europe, consistently playing heroes such as Rubick to the very limit of their abilities. He has also taken over the Io in a team which seems at times to be full of Io players, and has held his own very well on the hero.
Strategy
There have been a lot of notions over the years about what the core of Na`Vi's strategy is. Be it pushing, split-pushing, ganking, whatever, there are certain things which the team has always stuck by when they've been doing well. The first of these is the fact that Na`Vi is above all else a great farming team.
This may sound counter-intuitive given that the team is traditionally not a big fan of prolonging games, but it's actually a big part of the reason why they are able to end games earlier than most. In most teams the farm distribution is highly rigid, while in Na`Vi, everyone is allowed to take farm where they can find it, so long as they can convert it into advantages for the team. This means that the team puts a premium on farming the jungle, not unlike Alliance does, and are highly diligent about farming camps while moving from point one lane to another in order to gank.
The team also has great timing in their rotations and always have a gameplan beyond just the kill, which allows them to achieve multiple objectives at a time. The supports may get some farm, or they may stack a camp. They give their carry some free experience while timing it so that the opponent can't punish him for it. They arrive on point so that if the gank succeeds they can move into a secondary objective, usually taking a tower. There's always another move behind the first, and each advantage is always built upon.
As a whole, this means that Na`Vi is a very efficient team, who can turn small advantages into big and who snowball fast. Their supports have a great impact earlier and they retain that impact longer due to their farm. Even when they are behind, the team is almost always doing better than you would expect, staying closer on farm than seems reasonable that they should and preventing their opponent from gaining the comfortable lead needed to finish off the game, in turn allowing Na`Vi to make those big comebacks in the mid game.
Predictions for the International
Two time finalist. One time champion. Showing good form over the course of the past few months, both before during and after their Chinese bootcamp. Na`Vi have a lot of things going for them, as they have probably the best feel of all teams for the entire gamut of competition they will face at this years International, which should make them very hard to catch off guard, especially with Puppey at the helm.
No, instead the greatest challenges of Na`Vi stem from their loss of an anchor. While Puppey and in particular Kuro may try to be that rock upon which the team can depend, it's simply not the same having a support who always performs as it is having a player with a hero which can carry the game who you can always depend on to deliver in the mid and late portions of the game.
The absence of LighTofHeaveN as well as the requirements of both Dendi and Funn1k have forced Na`Vi to find new solutions to the fundamental questions, and these answers and how well they hold up will be the key to Na`Vi's success this year. So far they seem to be doing well, and anything bar another finals appearance should be considered a dissapointment for the team. If everything clicks, a repeat championship is very much within reach.
Previous Team Presentations
Orange NeoES
The Alliance
DK
Fnatic.EU
Zenith
Team Liquid
LGD.Int
mousesports
MUFC
Team Dignitas
TongFu
Virtus.Pro
LGD.Cn
Wildcard Teams: Quantic Gaming & RattleSnake
How far do you think Na`Vi will go at this years International?
Loading...
Related Content: