TI3 Team Presentation: Team Liquid
"Today's" team presentation tackles the second North American invitee,
Team Liquid
, a star-studded roster with high expectations placed upon them since it's inception. Later today we will move on to another star-studded roster, the Singaporean delight that is
Team Zenith
.

In the early days of Dota 2,
Brian '
FLUFFNSTUFF
' Lee began putting together his own team, which became
FIRE
. After some time practicing together in smaller North American tournaments, the team exploded onto the Western scene in early 2012 and
were picked up
by
compLexity Gaming
a month later, becoming the first brand new team to break through in Western Dota 2.
The team had
some early success's
and some periods of poor showings, but at the end of the competitive year they had made enough of an impression in order to earn their invite to The International 2012, which was the first LAN tournament for the team. Although they struggled with the LAN experience a bit, the team came just shy of breaking into the top 8, a respectable if still dissapointing first showing. After the event, the team soon started to begin feeling the pressure, with
Jio '
Jeyo
' Madayag
being recruited to join
Evil Geniuses
in October of 2012.
In his place Fluff added
Sam '
Bulba
' Sosale, formerly of Evil Geniuses, as well as replacing his long time friend
Tony '
HANNAH_MONTANA
' Talavera with former
Quantic Gaming
player
Steven '
Korok
' Ashworth, for what would become dubbed the "A-Team" during the time in which they negotiated their contracts, eventually
signing to Team Liquid
in early December of 2012.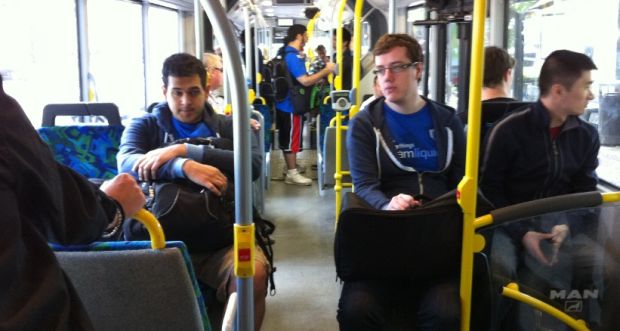 Fun fact: Bulba loves public transportation. Here we see him enjoying a bus ride in Sweden together with TC and ixmike88.
Photo by Fluff.
The promise of the new team attracted a lot of early attention, which turned to derision when they did not start winning straight off the bat. However the strategies they were at first mocked for turned out to be solid, as they eventually began playing as a team rather than as a collection of individuals and started executing their strategies, going on a massive winstreak in early 2013.
While the team eventually lost some steam, due to a combination of being figured out and lack of consistent practice, they still managed to perform well enough to make their way to the
G-1 Champions League
LAN Finals in China, which was a major milestone for the team and helped them realize that they were mentally holding themselves back when going up against the major Asian teams, rather than their actual level of play. Still, it was a lesson learned too late for that event, as they ended in 5th place.
As a recipient of a direct invite, the team began their bootcamp for this years International
at the start of July
, aiming to improve on their weakening form prior to that. Still, the results have not quite materialized, even with a shake-up in terms of drafting as
Tyler '
TC
' Cook has taken over the actual picking, as the team searches for greater consistency.
Achievements
1st Place -
BeyondTheSummit Weekend Cup (2013)
- $500
1st Place -
Bigpoint Battle #1 (2013)
- 1,500€
3rd Place -
DotaHut Invitational (2013)
- $300
4th Place -
The Defense Season 3 (2013)
- $1,500
2nd Place -
Bigpoint Battle #2 (2013)
- 500€
2nd Place -
Eizo Cup #2 (2013)
- 500€
1st Place -
RaidCall Dota 2 League Season 2 (2013)
- $5,000
3rd-4th Place -
DreamHack Dota2 Invitational (2013)
- $1,000
2nd Place -
The Premier League Season 4 (2013)
- $3,000
2nd Place -
G-1 Season 5 Western Qualifiers (2013)
- Trip to LAN Finals in China
4th Place -
WePlay Dota2 League Season 1 (2013)
- $1,500
1st Place -
Curse Dota 2 Invitational (2013)
- $5,000
5th Place -
G-1 Champions League Season 5 (2013)
@Shanghai, China - $1,600
1st Place -
American Dota League (2013)
- $5,000
4th Place -
The Defense 4 (2013)
- $2,000
The Players

FLUFFNSTUFF
(Captain)
Brian Lee
Signature heroes:
The Captain of the team, Fluff first started playing Wc3 DotA back in 2007, and by 2009 he was ready to try his hands at becoming part of a competitive, joining
Final Style
along with his friends whom he'd met through DotA; HANNAH_MONTANA, Jeyo and ixmike88. The team stuck together for a time, breaking up in 2010, and with the stalling of the North American scene, Fluff spent some time getting to know the other games around, which made him all the more hungry to return to Dota with the release of Dota 2.
Fluff began assembling a new team in the early days of the Dota 2 Beta, building up steam in smaller North American tournaments and finally coming onto the larger competitive scene in early 2012, having added TC to his group of friends who had been in Final Style. They called themselves FIRE, but by mid February 2012 they had been picked up by Complexity, having taken the scene by storm, and would attend TI2 together with this group.
After TI2 the team he had built began to split up, Fluff, TC and ixmike88 kept on playing, adding Bulba and Korok to what went under the name of "The A-Team" during what turned out to be the negotiations for the team to be picked up by Team Liquid. Fluff retained the role of Captain, which he still holds within the team, and has in general carried over his role as jungler/secondary support into the new team, with the one change being that he has given over the lead in the draft to TC, whom he still assists during the picking stage.
Fluff is well known as a man of deep thoughts and interesting ideas, of grand concepts and a vision which was able to turn a group of virtual unknowns into one of the strongest teams on the scene. He delivers a consistently strong performance on most heroes and is known for having good micro, with heroes such as Chen, Enchantress and Visage making up the core of his pool. He is also recognized as a strong ganker, although Liquid's playstyle is less built from the rotation of supports than coL's was.

TC
Tyler Cook
Signature heroes:
TC first strated playing Wc3 DotA around seven years back, focusing more on in-house leagues rather than wanting to go competitive. While playing in-houses he did however get to know many of his later teammates, it wasn't until a later stint in HoN and after having seen the first International that TC decided to try and break into competitive gaming, with FIRE being his first real team on that level.
TC stuck with the team through their days as coL and through the dissapointment of TI2, through "The A-Team" and into joining Liquid, eventually taking on the drafting duties for his team these days as well as playing mostly the hard carry, although in the recent run-up to TI3 he has been seen more often playing solo mid, the role he first held when FIRE broke into the scene.
TC is well regarded as a carry player, considered deadly consistent and understated, which seems to fit his outwards persona fairly well. He has a consistently strong impact on heroes such as Lone Druid and Gyrocopter and has an excessively strong record on Luna with Liquid, sitting at a above 80% winrate. His more farming orientated nature makes him a good counterpoint to the more active Korok, meaning that when the team drafts more passive and immobile solo mid heroes these are likely to fit TC better than they do Korok, which is why we've seen him recently on Outworld Devourer and Dragon Knight.

ixmike88
Michael Ghannam
Signature heroes:
ixmike has been playing Dota since the Wc3 days, being a active face in in-house leagues for many years before meeting up with Fluff and gang in Final Style around 2010. However his break-out performance was as for the rest of the team with FIRE in late 2011 and early 2012, showing himself to be quite capable as a support player, which rather than being his native position was more simply just what the team needed at the time.
ixmike is known for being a highly charismatic person whom the community has fallen in love with, especially his glorious mustache. He also keeps up his roots as an in-house player, running his own league for professional players and their friends called the IXDL. He plays the hard support, and over time has overcome his earlier reputation for feeding as he has gotten used to playing squishy heroes with little farm.
The backbone of his support play has always been heroes which are useful in the "complexity smoke gank" kind of situations, good rotating gankers such as Venomancer and Shadow Demon, as well as being the go-to guy for Nyx Assassin in the team. He is also the teams Keeper of the Light and Treant Protector player, and has recently been seen playing a fair bit of Crystal Maiden.

Bulba
Sam Sosale
Signature heroes:
The inventor of DotA, Bulba played the game for years before he grew tired of simply playing for fun and in in-house leagues, deciding to go invent victory for Team USA at the
MyM Pride Nations #3
, before going inactive again until after the first International, when he created the team
EZ Style
along with
Tim '
Power.Net
' Moon, before the team moved under the banner of It's GoSu, where he played alongside Korok for a while before heading off to Evil Geniuses.
Bulba attended the second International as the solo mid player for EG, and after a dissapointing showing the team began to break down, with Bulba moving on to play under the A-Team banner before being signed to Team Liquid. His role also changed, as he now is the primary offlaner for the team, having to leave behind his former core heroes such as Invoker and to some extent Tinker.
Bulba likes to play engaged Dota, disliking simply farming away, which is why his favourite offlane hero has largely been Clockwerk. He does however still play a good Nature's Prophet as well, accepting the role of a farming hero who is expected to build into a secondary damage source over time. He has a wide heropool however, and his recent play shows little in terms of a distinct direction or expectations for TI3.
In an ongoing joke within the community, Bulba likes to take credit for inventing things.

Korok
Steven Ashworth
Signature heroes:
While Korok, as the rest of his team, did play Wc3 DotA for years, his break into competitive gaming came around 2009, when he was Captain for
Pz-Gaming
, who later moved on to become
Blight.USA
towards the end of the year. His second big development in his early career in Dota was standing in for
Nirvana.Int
at
ESWC 2010
, which saw him play alongside
Clinton '
Fear
' Loomis,
Clement '
Puppey
' Ivanov and
Jimmy '
DeMoN
' Ho.
The next step on Korok's journey was moving into HoN, where he truly became a household name playing the ported version of Storm Spirit in particular for teams such as SK-Gaming and Evil Geniuses. When he returned to Dota after the first International, he joined up with It's GoSu, where he would play as they went through different rosters and eventually changed their sponsor, becoming Quantic Gaming from May until October of 2012, when he left to join The A-Team and Team Liquid, while the Quantic squad scattered.
Korok has altered quite a bit between solo mid and hard carry, depending on the heroes in question. He has a very aggressive style and was famous for popularizing the Ethereal Blade Morphling during the early days of Dota 2. For Liquid he has spent more time on the mid lane than elsewhere, being one of the people who popularized Puck once more during last Winter as well as playing a lot of Queen of Pain and Templar Assassin. When playing carries he has mostly played Gyrocopter in Team Liquid, although Weaver and Mirana are also starting to show up more often in his played heroes.
Strategy
When Liquid first broke through they were a very aggressive team, playing to the strengths of Korok and Bulba as well as utilizing heroes such as Visage to great effect. This has however slowly been toned down in the team, as they now look to be playing a bit more steady and controlled Dota. This has forced the team to try and overcome their previous hick-up's with their lategame, which was always their weakest portion, even with the stability of TC as their anchor.
The team has also previously been well known for their creative and confident hero picks, choosing to follow their own vision of the game rather than adapting to others. At some point however this has become lost, and the team is now closer to the middle of the road in many ways. Whether this is better for them, as they no longer rely on gimmicks and surprise but on their not inconsiderable talents as players in order to carry them through the game, it remains to be seen.
The teams definitive strength is the versatility and mobility of their three core players, who can each take up different roles and who each have different playstyles, allowing the team to possibly confound expectations during the draft, although they do not play to this advantage as often as some other teams such as
Fnatic.EU
for example. Instead the roles of the team have, on average, tended to be fairly established, with some overlap in terms of hero pools but not as much as might be hoped for if more creativity be sought after.
Predictions
Team Liquid have the players and the drafter to go far, but something isn't quite right. They lacked practice for much of the Spring and early Summer, and although they've been bootcamping since the start of July, it hasn't quite yet translated into really strong results in official games (supposedly they look a bit better in scrims). They are by no means a weak team, but they lack the innovative edge which was the backbone of coL's successful period's as well as the early successes of Liquid.
Still, the team does seem to be expanding their heropool's actively, looking to amass a number of strategies which should work and should give them good platforms to adapt in different directions for the LAN picks which always arise. While I might hope for something a bit more fringe from the team that introduced such things as Visage and Slark into the metagame, it may still come together for them at the event.
Previous Team Presentations
LGD.Int
mousesports
MUFC
Team Dignitas
TongFu
Virtus.Pro
LGD.Cn
Wildcard Teams: Quantic Gaming & RattleSnake
How far do you think Team Liquid will go at this years International?
Loading...
Related Content: