TI3 Team Presentation: TongFu
Today we take a closer look at
TongFu
, the last team to received their direct invite to
The International 2013
after the revoking of
LGD.Cn
's invite, who have since grown to become one of the strongest of the Chinese teams attending the event. Tomorrow we will return to the West, as we get to know
Team Dignitas
, the second American team to receive their invite to this year's event.

The origins of the current TongFu roster are with the disbanding of
Pandarea
, after which
Chen '
Hao
' Zhihao,
Zhang '
Mu
' Pan and
Wang '
SanSheng
' Zhaohui were recruited by Captain and former
TyLoo
member
Kai '
Kabu
' Zhao for the team, after his initial attempts at creating a team of less experienced players proved a failure.
The fifth player
was initially the former
EHOME

player
Zhicheng '
LaNm
' Zhang, but due to issues within the team and LaNm being unhappy with how much attention TongFu were giving to Wc3 DotA practice instead of Dota 2, he soon left the team in order to return to the reformed EHOME, causing a
massive controversy
for
breaking his contract
in order to leave.
In his place TongFu picked up
Ye '
Awoke
' Liang who had been left behind in
Canis Lupus Campestris
as three of his teammates also made their return trip to EHOME. With this roster TongFu went on to play and win the Eastern Qualifiers for the International 2012, defeating
World Elite
in convincing fashion. However, their run at the main event was less impressive, coming in joint 7th-8th place as the last of the Chinese teams. Unhappy, the team looked for a change soon after.
Kabu and Awoke ended up leaving the team,
making way for
former
DK
player
Xiang '
LongDD
' Huan as well as former World Elite player
Zhi Xi '
Veronica
' Chen (a.k.a. Chan). This roster held together until mid March, with at which point Awoke was replaced and LongDD left in order to move in with LGD.Cn, playing as their stand-in during the surgery of
Xie '
DD
' Bin before eventually being confirmed as DD's replacement.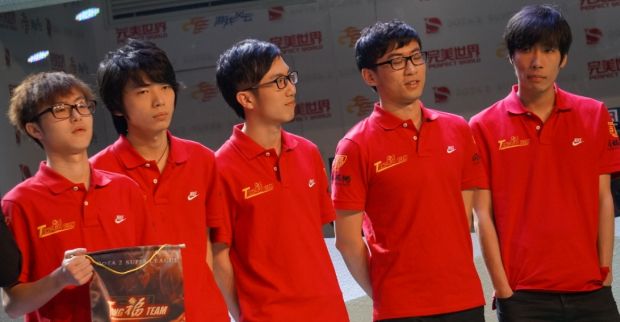 TongFu at the Dota 2 Super League.
Picture via GosuGamers.
In their place joined former
Nirvana.Cn.
and
For.Love
captain
Wang '
Banana
' Jiao, who quickly made himself at home with the team. The other player coming in was
Xi Ming '
Yaobai
' Chen, who failed to impress and was out the door in a month, being replaced by EHOME legend
Yang '
KingJ
' Zhou, who also came to TongFu by way of For.Love.
With their roster complete by mid April of 2013, the team started improving and managed to get themselves a spot for the International Eastern Qualifier again, which they were favourites to win. However as LGD.Cn decided to
kick LongDD and bring back DD
after having already received their direct invite, they became the
first team ever to have their invite revoked
, which caused TongFu to gain the direct invite in their place.
However, perhaps more important than receiving the direct invite for the growth of TongFu was that LGD.Cn had passed on former
ViCi Gaming
player
Tong '
sydm
' Junjie, who ended up becoming the new coach of TongFu instead. With his help the team tightened up their play and became one of the most dangerous teams of the Asian scene, earning their
first major tournament win
in early July, as they took home the Grand Finals of the
Dota 2 Super League
3-0 over DK. The prizepool of this one tournament was massive enough to make TongFu the third highest earning team since the 2012 International in terms of prizemoney, behind LGD.Cn and
The Alliance
.
Dota 2 Achievements:
1st Place -
The International 2012 East Qualifier
- Invite to The International
2nd Place -
It's Gosu Razer Mini Madness (2012)
7th/8th Place -
The International 2012
@Seattle, U.S.A - $25,000
3rd-4th Place -
G-League Season 2 (2012)
@Shanghai, China - $1,600
1st Place -
AMD Premier League Season 1 (2013)
- $3,000
1st Place -
Dota 2 Super League (2013)
@Shanghai, China - 500,000 RMB (~$81,000)
5th Place -
Alienware Cup #1 (2013)
- $3,000
The Players

Hao
(Captain)
Chen Zhi Hao
Signature heroes:
Hao has been around for a while, getting his start in
xFy
along with Banana back in 2009 before moving on to make his mark with
Nirvana.Cn
back during 2010 when they were one of the best teams of the Chinese scene. As their results began to weaken the team broke up in the Chinese shuffle of June 2011, which saw Hao join TyLoo where he played during the first International. Another lackluster result lead to another broken team, as he left once more moving on to Pandarea.
In PanDa Hao met up with Mu, forming the legendary pairing which has held until this day. They were also joined by SanSheng in Decemeber of 2011, only to have the lack of funding lead to the team disbanding in April of 2012. This lead the three to move on to TongFu, where they've stayed ever since, going through the second International together, which sadly was another dissapointment for Hao, as they came in only joint 7th-8th place.
Nicknamed General Hao by the Chinese community, he is known to be one of the most aggressive players in the Chinese scene. However, his play has been one of those most improved since the addition of sydm as a coach, as he has tempered his nature and no longer is as prone to taking the big gambles that made him famous when they worked out and infamous when they did not. Instead he is now considered one of the most solid Chinese carry players and a strong all-around player.
Hao's heropool has changed over time, moving away from the Chaos Knight and Dragon Knight and more towards the typical Chinese carry fair of Anti-Mage and Lone Druid. He also plays one of the better Gyrocopter in the Asian scene and has most recently been noted for playing a lot of Weaver, which feeds into his natural aggressive tendencies.

Mu
Zhang Pan
Signature heroes:
Mu got his break playing for Pandarea back in 2011, during which he was voted the rookie of the year in China. However, once PanDa fell apart, he followed Hao over to TongFu, participating in his first International a mere year after arriving on the scene. His aggressive style synergized well with Hao for a long while, at least when they both had a good game. As often as not, the result could be the reverse, as the high risk playstyle could backfire on the famous duo.
With the addition of sydm Mu has also slowed his pace down a bit, although his role as initiator/ganker for the team does allow him some more freedom in terms of trying to make those big plays. However, he now follows the line of the team a lot more, and with heroes such as Outworld Devourer and Dragon Knight he does accept that more is expected of him in terms of acquiring farm and providing a secondary damage source for the lategame.

SanSheng
Wang Zhao Hui
Signature heroes:
SanSheng, known previously as 34, has been around the competitive scene for a long time, having played for teams such as EHOME back in the day. But it wasn't until he joined up with
CCM
that he started to get some attention for his own play, which did not last long as CCM was bought up by
iG
in August of 2011. This was how SanSheng came to attend the first International playing support for iG, where they ended in shared 5th place.
Soon after the International, in November of 2011, he left iG in order to join Pandarea, where he met Hao and Mu. After this short lived stay with PanDa, he moved on with the aforementioned duo to TongFu, and has been playing anything from offlane to hard support since, depending on the needs of the team, with his current role being mostly that of a hard support, since the addition of Banana who enjoys playing jungling heroes.
SanSheng used to be well known for playing Bounty Hunter and Windrunner back in his offlaner days, but these days he's more about the Rubick, Visage and the Shadow Demon. He plays the primary lane support, but does notably venture out of this role when playing the likes of the jungle Doom, a rarity which TongFu has helped introduce to the scene.

Banana
Wang Jiao
Signature heroes:
Banana has been playing since 2009, being part of xFy together with Hao before departing to become one of the founding members of Nirvana.Cn in 2010, where he would stay until the team well and truly went under in 2012. During his time with Nirvana he achieved some big results such as the
WDC
win of 2010 and being the only team to take game off of EHOME at that years
SMM
. He also attended the first International with Nirvana.Cn, where they sadly had a very rough time, going 1-2 during the groupstage and dropping out of the competition in the first round of the losers bracket.
After Nirvana.Cn Banana took a break from competitive gaming, making his return in October of 2012 as a member of For.Love right before
G-League Season 2
. While at For.Love his experience gained him the role as Captain, however when the opportunity was offered to him to join TongFu in March of 2013, he did not hesitate. Since then he has been the primary jungler for TongFu.
While in the past he has been well known for playing Earthshaker, in TongFu he is best known for his Chen and Enchantress, dropping in some Nature's Prophet as well at times. We've also seen him play a bit of support Naga Siren at times, and with his long competitive experience he has a fairly large pool of heroes which he can play occasionally. He is especially well known for being a self-sacrificing player who will take the bullet for his teammates if needed.

KingJ
Zhou Yang
Signature heroes:
KingJ started his career in professional DotA playing for
KingSurf.Cn
,
cYc
and
For the Dream
all within the span of 2009, with FTD being the first one to put up big results, winning SMM 2009 before being picked up by LGD in 2010, by which point KingJ had already moved on to EHOME, where he finally came into his own on one of the most successful and dominant teams in DotA history.
KingJ departed from EHOME in January of 2011, joining
DK
, but as the team failed to achieve anything segnificant over the next eight months, he ended up changing scenery again, joining Nirvana.Cn only days before the first International, and ended up missing out on the event. Instead he became part of the final chapter of Nirvana.Cn's life, when he played along with Banana until January of 2012 and the teams disbandment.
At this point KingJ returned to play with old friends, joining up with CLC before moving on to EHOME once more, where they played with little success together until the second International, where they took joint fifth-sixth place. In trouble with ACE and without competitions to show off their skills in, EHOME broke up once more, as the players slowly left for other teams, with KingJ taking a hiatus until 2013.
He
joined For.Love
following the departure of Banana for TongFu, only to leave again a month later, being dissatisfied with the level of commitment of the players on the team. The moment he left For.Love TongFu took him in as replacement for Yaobai, and he has since been playing the offlane for the team.
KingJ is known as a versatile carry and semi-carry player who used to be well known for his Visage and Broodmother play. While neither hero has come up much of late for him, he has played a lot of Clockwerk in recent times as well as heroes such as Magnus and Gyrocopter. His experience as a carry player affords his team the choice of running his as solo safelane at times when they wish to play a more utility orientated safelane farmer with Hao going on to the aggressive farming carry.
Strategy
TongFu has always tended to build strategies around Hao and Mu, and with the addition of KingJ they now have a third solid core player, which allows them to widen their array of strategies even further, at times going highly greedy and throwing junglers as well into the mix, as they look to punish passive play by farming up multiple mid game heroes in order to claim control of the game.
However, TongFu is by no means a one-trick-pony. A large part of their strengh recently has come from their ability to go from a single carry strategy centered around Hao's impressive farming ability on heroes such as Anti-Mage, to two core strategies and thripple cores, into utilizing split-pushing and or just relying on Mu and Hao's aggressive tendencies to gank with something like a Storm Spirit and Lifestealer combination.
The team is capable of challenging their enemies when needed and is generally hard to pin down. There are few constants in their play and they are not afraid to try new things, sporting a fairly wide array of picked heroes, with Rubick being one of the few heroes that truly stand out as something they play more often than not in recent times, as well as a recent trend towards running Dragon Knight along with Weaver, two of Mu and Hao's most played heroes as of late.
Even though the team gives a fair amount of space to their supports, running more junglers than most Chinese teams have tended to, this may be their weakest area in general as while their support duo is experienced they are squarely in the shadow of their the Hao and Mu show, which still is the dynamo of this team.
Predictions for the International
Over the past months TongFu have been said to be one of the strongest teams in China. This might sound fairly familiar to those who followed last years International, as after their dominant Eastern Qualifier showing there arose a buzz around them as well, with some people even predicting them to win the main event. However, unlike last year, they now have the results to back it up, with their win in the most important Chinese LAN event to date, the Dota 2 Super League. This both made TongFu a championship team as well as proved that the buzz around the team was well earned. Still they came up short in the Alienware Cup and went out in the Quarter-Finals of the RedBull ECL, indicating that although at their best they are team who can perform under pressure and win against the best, they can also be defeated by good teams.
Nonetheless at the time of writing, it would be foolish not to consider TongFu one of the favourites to make it to the finals of the International, and on equal footing with LGD.Cn when competing for the title of the best Chinese team.
Previous Team Presentations
Virtus.Pro
LGD.Cn
Wildcard Teams: Quantic Gaming & RattleSnake
How far do you think TongFu will reach at this years International?
Loading...
Related Content: