Team Menace traps the rats
The DOTA 2 Scene grows once more, as the Finnish multigaming organisation
Team Menace
has decided to invest into the ARTS-genre
(also referred to as MOBA)
. They signed the Finnish up–and–coming team
Rat in the Dark
, who just returned home from the
EMS One Summer Lan Finals
in Katowice.
Team Menaces
is one of the oldest eSport-organisations in Finnland. Founded in 2006, they first put their main focus on Battlefield 2, but soon more games have followed. Since they concentrate on supporting teams of their homecountry, Rat in the Dark was the obvious choice once the decision was made to enter the ARTS-genre.
Teijo '
Warrior
' Sepponen, CEO of Team Menace:
Im very pleased to say that we have found a Dota2 team, we have been looking at the Dota2 scene for a long time and Rat in the dark looked like a very promising team. After some talks back and forth we ended up offering them a place in our organization. The guys seem very stable and down-to-earth kind of people so they fit perfectly in our organization.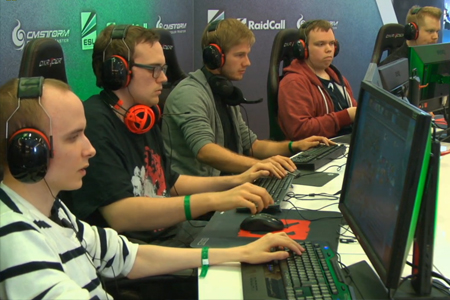 Image courtesy of ESL
The first time the Finns will represent their new organisation will be for the
SteelSeries Dota 2 Challenge
, a Finnish Lan Event from the 1st - 3rd of August. Team captain
Eetu
'Lapiz'
Seppälä feels confident that his team will come on top:
We consider us the best finnish team at the moment and I doubt anyone in the finnish scene can currently beat us without some sort of a surprise. When it comes to 4FC and El'Pride, I believe that they are both quite strong teams that are capable of anything, especially El'Pride! Having said all that, I still consider us the favourite though.
Roster Team Menace
Eetu '
Lapiz
' Seppälä
Riku '
Buugi
' Fält
Olli '
Sifla
' Vidberg
Ari '
Spin
' Raimi
Daniel '
daco
' Nygård
Sources:
Team Menace announcement