D2SL LGD.Cn vs. DK - first semi-final recap
In the first of the best-of-five semi-finals of the
Dota 2 Super League
,
LGD.Cn
went up against
DK
, as the two powerhouses competed for a place in the grand final, to be played
July 7th at 14:00 CEST
.
The second semi-final of
TongFu
taking on
Orange NeoES
will take place tomorrow,
June 28th at 11:00 CEST
.

LGD.Cn vs.
DK
Starting things out, LGD decided to play it safe, going for a
Lio '
Sylar
' Jiajun safe-lane Alchemist together with the usual Jakiro and Shadow Demon supports. DK however wanted to challenge this, sending the
Zhilei '
BurNing
' Xu Weaver together with the Earthshaker and Dazzle to challenge the trilane. This left
Zhang '
xiao8
' Ning on Magnus against
Junhao '
Super
' Xie on Dragon Knight to fight out a close lane at mid. The biggest difference early on came from
Fan '
r0tk
' Bai on Clockwerk winning DK the top lane hard against the Nature's Prophet of
Yao '
Yao
' Zhengzheng, until a crucial mistake allowed Yao to snipe the Dire courier, turning the tide on the top lane and nudging xiao8 ahead at mid.
Early aggression ended up favouring LGD.Cn, as the Reverse Polarity of Magnus played a big part, securing early kills and helping negate the rough start of Sylar. This forced more and more attention from DK as they tried to salvage their offensive trilane, before eventually abandoning it just short of the 10 minute mark, freeing Sylar up to skyrocket in farm.
With everything going against them, DK looked lost and unsure of how to move around in order to get back into the game. Their gank attempts were failing to connect, and although BurNing was farming decently, he was not able to put any distance between himself and Sylar, especially as Sylar had the benefit of Empower. The one thing that was going DK's way was their ability to find several early tower denies, denying their opponents at least some gold, even though it came at the expense of falling behind on map control.
By 27 minutes in we got out first teamwipe, as DK tried to initiate on LGD.Cn at the top lane under the cover of Smoke of Deceit, only to have it turned around on them, losing their heroes one by one as they were unable to disengage from the fight as it turned sour, with even BurNing's Time Lapse coming up short as the Unstable Concoction of Sylar followed him all the way to his inevitable death.
After yet another decisive loss on the back of another big Reverse Polarity by xiao8, the bodies of DK's heroes lay dead on the field, causing them to call the 'GG' at 34minutes just as LGD.Cn broke into their base.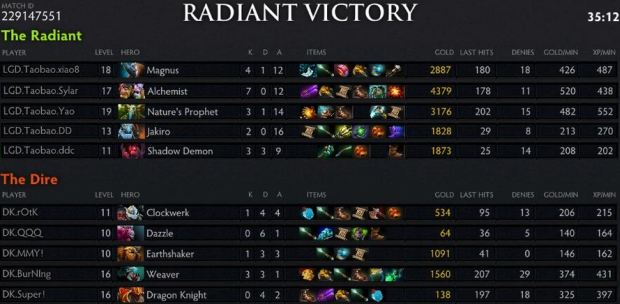 Picking into Spectre for Sylar, LGD.Cn knew they'd force DK to go on the aggressive once more, causing LGD in turn to pre-emptively dodge to the bottom lane with their Spectre, Rubick and Nyx Assassin trilane, causing DK to start their game by rotating down as well, which sent Sylar going up top against the Windrunner of r0tk, forcing the DK Sand King and Visage supports to rotate top again, as well as LGD's Rubick to move up, leaving
Leong '
DDC
' Fatmeng on the Nyx Assassin against BurNing's Weaver at bottom lane, as Yao on the Batrider took to the jungle, leaving Super on Slark against xiao8's Puck at mid lane.
While DK got the first blood as well as a quite a few more early kills, LGD managed to get a lot of levels out of the laning stage, which meant that the two teams were still virtually tied on experience even before LGD got a single kill on the board. Unfortunately for LGD, DK did not stop at that, with Super going absolutely berserk, claiming 5 kills before 15 minutes in, giving DK the momentum as the teams headed into the mid game.
With DK running the map, LGD were boxed into their own base by 20 minutes in, without any vision to speak of as an early Gem of Truesight picked up by r0tk denied not only LGD's vision but also neutered the Nyx Assassin, as even with all their strong initiation heroes LGD kept on struggling to find pick-off's. The one saving grace for LGD was that BurNing was having a surprisingly poor game, barely ahead of Sylar on farm, giving LGD an opening to get back into the game if they could only force the game late.
DK had a rough time breaking the base, as LGD sat back to turtle it out, after a solid 20 minutes of sieging on and off, DK found the opening as all the ultimates of LGD were on cooldown, allowing them to march in at mid lane and claim not one but three lanes of Barracks, ending the game after 47 minutes with Super leading the way on a 9/1/15 ending score.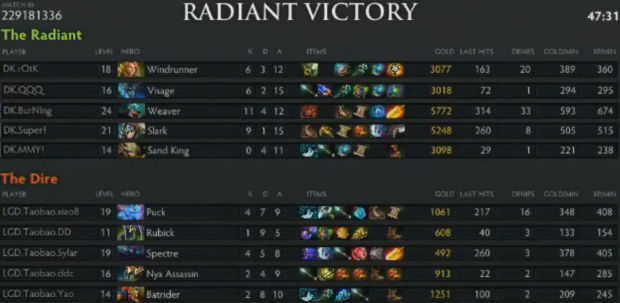 After getting their first win of the series, DK felt content not to try and challenge the trilane this time around, instead getting the trademark BurNing Anti-Mage nad back it up with a pulling Lion as well as Shadow Demon by
Yao '
QQQ
' Yi, who soon rotated to middle lane in order to help Super's Kunkka zone out the Dragon Knight of xiao8, after DK had first drived Yao's Dark Seer into the jungle, leaving BurNing the free farm on the top lane. This allow BurNing to get far ahead on farm against Sylar's safelane Spectre, who had to contend with r0tk's Clockwerk, who was being annoying even if he ended up feeding a needless first blood to the LGD.Cn supports of Rubick and Silencer.
While LGD was doing a good job in early skirmishes and teamfights, with the tankyness of Dark Seer and Dragon Knight mitigating the impact of Kunkka while Anti-Mage focused on farming, allowing BurNing to build up a massive lead in terms of net worth by the mid game. Backed up by the Kunkka who was matching the cores of LGD on farm, the momentum went strongly in favour of DK.
As BurNing finished farming, he helped his team secure a Roshan kill around 29 minutes, seeing him sitting on Power Threads, Battlefury, Manta Style, Heart of Tarrasque, Butterfly and Aegis of Immortality. With such a decisive advantage DK were happy to force the high groun at bottom lane, trading the Aegis for two kills, forcing a buyback from xiao8 to no avail, as DK claimed the bottom Barracks and forced out the 'GG' by 33 minutes in.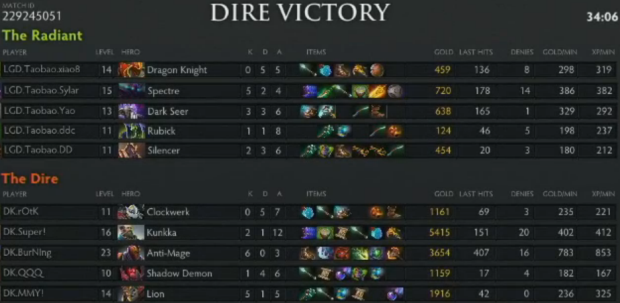 For the fourth game of the series, BurNing took it upon himself to prove that he was the better Spectre player, going to the safelane along with a Visage and Rubick to claim his uncontested farm, as xiao8 on the Batrider dodged into the jungle. This left the mid lane to Yao on the Dragon Knight, who faced off against Super's Magnus, while r0tk on Nature's Prophet spent much of the early game helping out pushing at the bottom lane, before rotating up to top, where Sylar's Necrolyte together with the Leshrac and Nyx Assassin were also already knocking on the Tier 2 Tower.
Both teams were content to trade farm for much of the laning stage, looking to get up key items, as LGD prepared to push and DK hoped to have enough split push and turtling power in order to stall the game long enough for BurNing to take it over. At just past 10 minutes LGD got their Blink Dagger up on xiao8's Batrider, seeing it as their impetus to start grouping up, looking for some pick-off's and getting some towers.
While Sylar lead the way on farm, he focused his gold into buying utility items such as Mekansm and Pipe of Insight, as LGD pushed down outer towers and eventually grouped up to push in at bottom lane at 22 minutes. But as they did LGD realize their mistake, as Rubick pulled them out of position and Magnus locked them down with Reverse Polarity, Empowering Spectre who had his Diffusal Blade, cutting through the LGD ranks and teamwiping them, as suddenly it was r0tk and BurNing who held the top two spots in terms of net worth, with LGD's window for ending the game before Spectre took over growing ever smaller.
While LGD managed to take the next teamfight, there was not enough between the two teams in the mid game for either to take decisive fights or threaten to end the game. As the game went later on, Sylar got his hand on the Aghanim's Scepter, looking to lock down and pick off BurNing while under the effect of the Reaper's Scythe, denying him the option to buy back and giving LGD the opening to win the game because of it. This again kept both teams playing it safe and farming up, as both teams realized the game could be lost at any moment as they headed into the later portions of the game.
LGD tried to engage on DK just as BurNing picked up a Black King Bar on Spectre, catching them off guard and giving DK a decisive teamfight victory at 52 minutes, picking off Sylar who bought back and then claiming another kill on Sylar as LGD tried to contest the following Roshan to no avail. This now set BurNing up in a commanding position, with his Phase Boots, Manta Style, Diffusal Blade, Heart of Tarrasque and Black King Bar and an Aegis of Immortality on top of it all.
The opening came at 57 minutes, as DK caught out Sylar once more, this time without buyback, allowing DK to overrun the LGD base as BurNing delt the big damage, receiving a Mjollnir Buff and Empower as well from his team, allowing them to take two lanes of Barracks before being beaten back once Sylar and his team respawned. But with their tournament life in the balance, LGD were not willing to give up even against overwhelming odds, choosing to fight on with only their mid Barracks standing, even down one of their Tier 4 Towers.
One more fight at 63 minutes, as DK came out on top LGD knew their jigg was up, calling the 'GG'.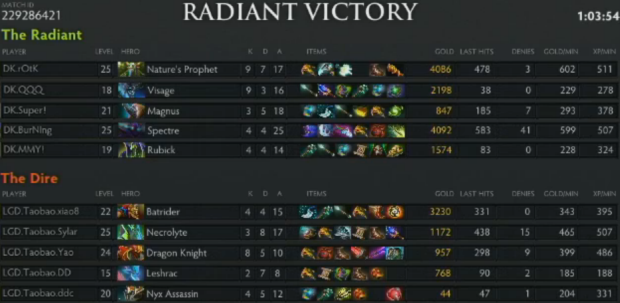 DK out-paced LGD.Cn 3-1 through a solid mix of alternating aggression and superb farming, claiming their spot in the grand finals of the Dota 2 Super League.
Schedule
June 28th - 11:00 CEST -
Orange NeoES
vs.
TongFu
- Best of 5
Third Place Decider
June 29th - 11:00 CEST - Best of 5
Grand Final
July 7th - 14:00 CEST (Unconfirmed) - Best of 5
Prize Distribution
First place: 500,000 RMB (~$81,000)
Second place: 200,000 RMB (~$32,000)
Third place: 100,000 RMB (~$16,000)
Fourth place: 50,000 RMB (~$8,100)
Grid
Loading...
Related Content: