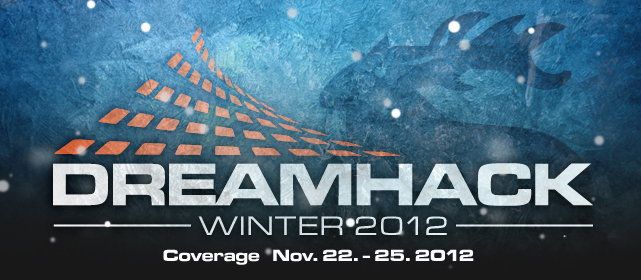 Playoff Grid
Gallery
VODs
Event Blog
News
Group
Teams
Grid
Loading...
Picture Gallery
VODs
Event Blog
Playoffs
02:51
by HolyMaster
No Tidehunter really did it! They won two games in a row and take gold and 100.000SEK. Not much to add. If you haven't watched it live, make sure you check the vods tomorrow. It's been a great tournament at Dreamhack once again. Goodbye.
21:56
by HolyMaster
A convincing victory puts EG into the lead, 1:0. There will be a break now thought, because the players are moving to the big stage in the Dream Arena. Can NoTide turn it around?
19:19
by HolyMaster
EG repeats their strong performance from yesterday by kicking fnatic out of the competition. The Americans really stepped up after a mediocre groupstage. Also noteworthy is the fact that all playoffs went 2:0 so far. EG and nth will face each other a second time later, in the grand final. The Swedes had the upper hand during the eliminaries, but that won't matter, when these two teams fight for the title in a bit over an hour.
16:30
by HolyMaster
And now Empire is out. Both CIS giants are eliminated. Impressive play from No Tidehunter, another 2:0 brings them into the grand final without a single loss. The first game has been one of the most exciting in the tournament so far. fnatic vs EG coming soon.
20.11.2012 - Groupstage
20.11.2012 - Before we leave
Latest News
Group Stage
BYOC Qualifier Information
Main Event Group Stage
Loading...
Teams